Children from across the city are Imagining Aberdeen as a place where children are healthy, happy, safe and doing their best.
In 2016 ,300 children considered life in the community, at home and at school and explored the idea of human dignity. Reports on their insight are published below. Then 20 children – our Imagineers – took part in a Mural and Film Project which captured children's vision for the city, distilling the key messages that children need adults to understand and act on. Watch the children's film and download the Mural leaflet below.
In 2017 our partnership continued with more learning about children's human rights and human dignity – and a new focus on attainment as part of Aberdeen City's commitment to the Scottish Attainment Challenge via our Doing Our Best programme (link to the evaluation below).
In 2018 the Imagineers want to have a bigger impact on Aberdeen! The Imagineers are inviting adults who work in a range of sectors to come to an Imagineer session. Adults will leave with an understanding of the idea of human dignity and children's human rights. Being part of the Imagineer session will help individuals and organisations to meet their duties to engage meaningfully with children on all aspects of wellbeing and what services provide for children. Check the blog for more https://bit.ly/ImaginingAberdeen
---
Media
---
Project Reports
Please click on the links below to view the Imagining Aberdeen Phase 1 Project Reports.
BrambleBrae Primary School (Imagining Aberdeen_phase 1 report
ManorPark Primary School (Imagining Aberdeen_phase 1 report)
Riverbank Primary School (Imagining Aberdeen_phase 1 report)
Tullos Primary School (Imagining Aberdeen_phase 1 report)
Further reports of our Aberdeen work are at the following links:
Imagining Aberdeen (Newspaper, 2017)
---
Mural Leaflet
This leaflet describes the children's key messages as developed during the Imagining Aberdeen Mural week 2016.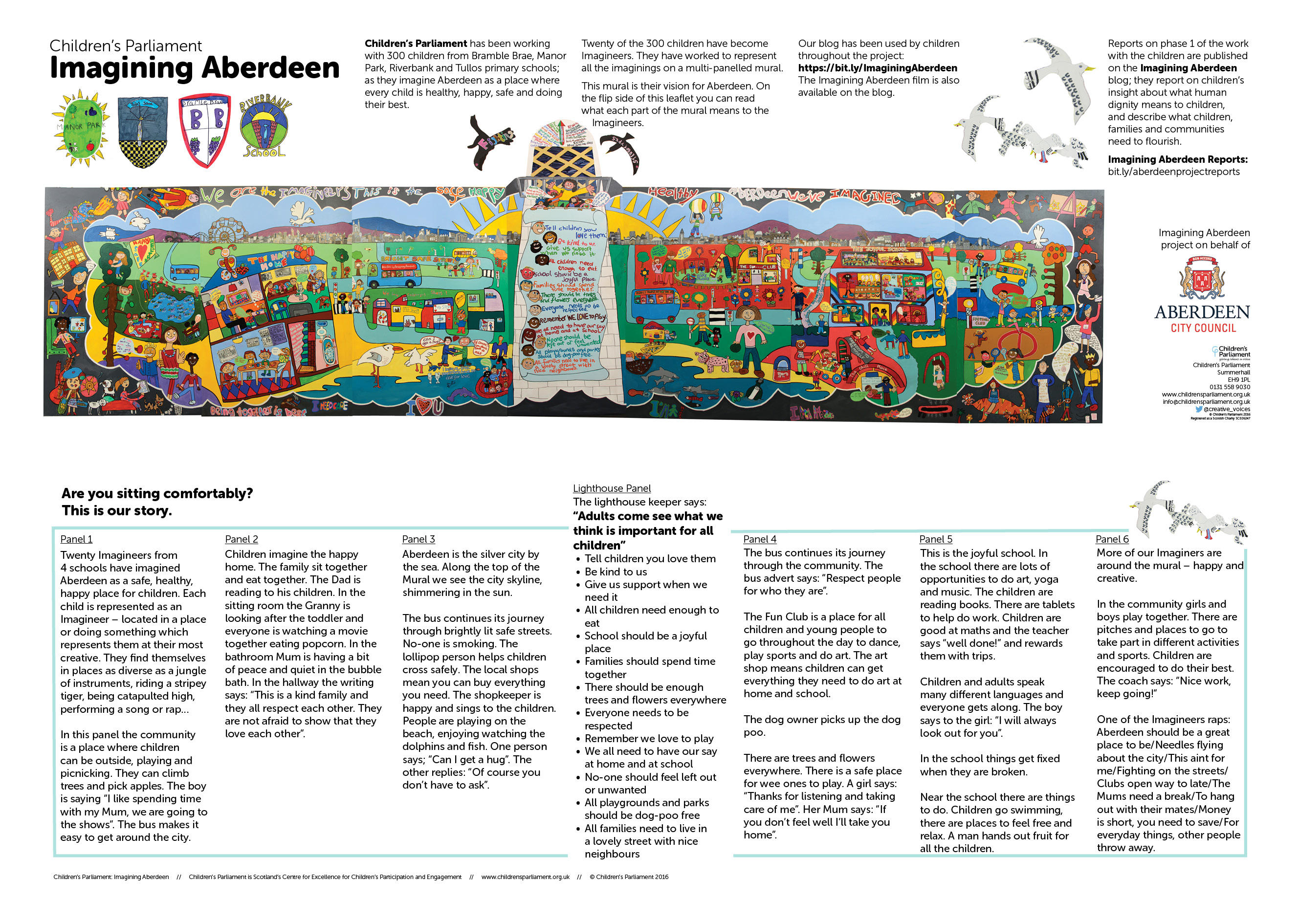 ---
Acts of Kindness
The Imagineers have been thinking about kindness and produced this poster to encourage kinder communities in Scotland.

---
Life at School
The Imagineers have thought about their lives at school: what is going well, what's not going so well, where they feel they can get support if they have a question or worry, and how to make school better for everybody. We have produced the following poster reports to share their ideas with you.
Life At School (Part 1)
Life At School (Part 2)
---
Imagining Aberdeen participants won the Aberdeen City Council Children and Young People's Champion Award 2016.

---
Gallery
---
Imagining Aberdeen mural artwork facilitated by Joanna & Yonnie
Project delivered on behalf of Aberdeen City Council