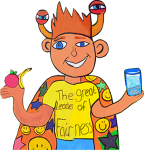 To mark Children's Parliament's 21st birthday, we initiated the inspiring and brave band of Unfearties. Since 2017, more than 1000 people, including doctors, nurses, teachers, parents, carers, civil servants, local authority workers, third sector practitioners, United Nations deputy high commissioners, and even the First Minister of Scotland, have joined the movement.
Unfearties are individuals who are courageous in discussing children's issues, are making a difference in children's lives, and who are willing to speak up for, and stand alongside, children.
---
This is a small selection of our current Unfearties Network.
Stay tuned as we continue to build on the Unfearties' work through Year of Childhood 2021.
---
'A nest of fearties is what they do not want'
– From Edwin Morgan's poem 'Open the Doors' written for the opening of the Scottish Parliament 2004.
---
In partnership with Cattanach Trust

---
If you wish to edit your Unfeartie entry, please get in touch.
* Image: The Great Leader of Fairness, created by children taking part in the Fairer Fife Mural, 2015