On 5th March 2019, children travelled from across Scotland to meet with Nicola Sturgeon and her Cabinet at Bute House, Edinburgh. The children made the journey because they believe their voices will be listened to.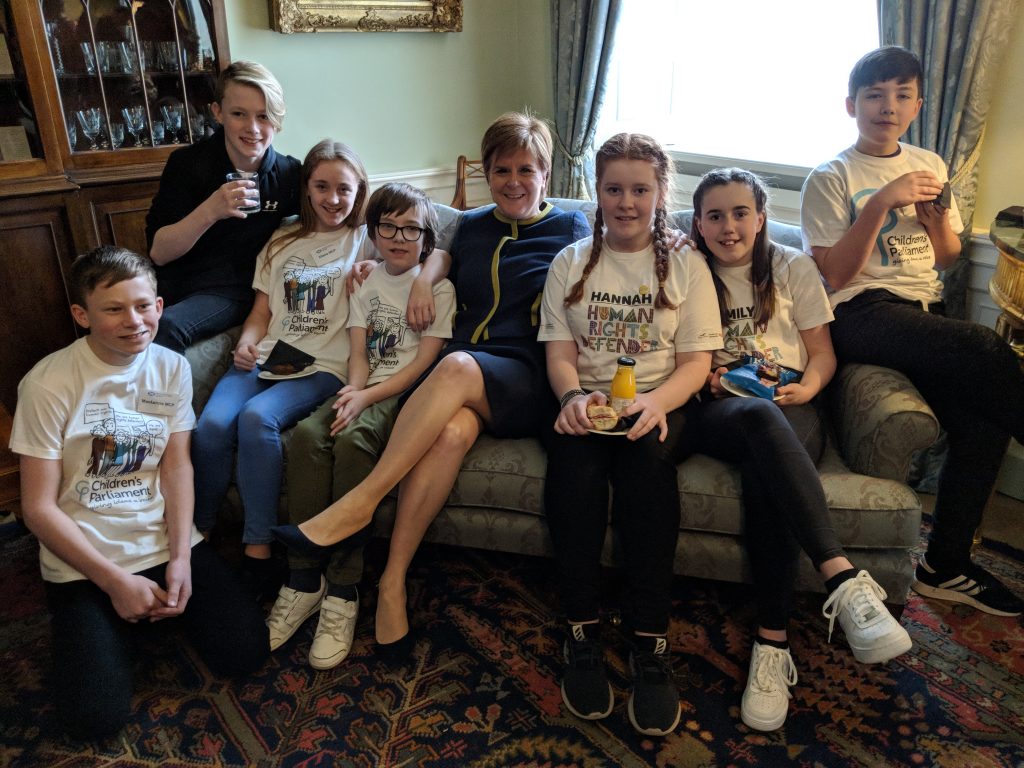 The annual Children and Young People Cabinet Meeting is a unique opportunity for Scotland's youngest citizens to participate in democracy at the highest level. Engagement in this event represents a reassuring development in Scotland's culture, that of children's views being actively listened to; their ideas taken into account and acted upon.
Members of Children's Parliament have been encouraged by the First Minister's recent commitment to ensuring children's human rights are incorporated into Scots' Law. Children talk about their rights as protections, which help them to grow up feeling healthy, happy and safe. Children's human rights ensure children are recognised as democratic participants today, not just the often described 'citizens of tomorrow'.
"Your rights can change your life. Be yourself and make sure you are heard."
– Member of Children's Parliament (aged 10)
"I think more people in Scotland, especially kids, need to know about their rights. If something unfair happens, they need to know what to do"
– Member of Children's Parliament (aged 11)
Members of Children's Parliament attending this year's Cabinet meeting agreed upon three key issues to raise directly in their conversation with the First Minister and her Cabinet – Poverty, Relationships with teachers, and Bullying. These issues are based on the children's recognition that Love is the golden thread which winds through the themes.
"Children's rights are important. Very important! It's actually a bit of care and love for you."
– Member of Children's Parliament (aged 6)
Cathy McCulloch, Co-Director, Children's Parliament said:
'The Scottish Government is leading the way internationally in demonstrating how it values Scotland's children and young people. This will be the 3rd year the meeting with Cabinet has taken place and the conversations have made a strong impact on children, young people and Cabinet Ministers. We look forward to this year's meeting and to working with Ministers and Scottish Government officials over the coming year to ensure that the children's views and experiences continue to impact thinking, policy and practice.'
---
To help them prepare for the meeting, the children worked to create a short film and a briefing booklet to share with the First Minister and the attending Cabinet Ministers. View the video below:
The children prepared a briefing booklet for Cabinet Ministers', download it at the link below:
A joint press release has been developed between Children's Parliament and the Scottish Youth Parliament. Access it below:
---
Information and films from the two previous Children and Young People Cabinet meetings can be found here: https://www.childrensparliament.org.uk/scottish-cabinet-2017/ and here https://www.childrensparliament.org.uk/cabinet-meeting-2018/
Children's voices and the Scottish Cabinet