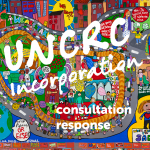 Children's human rights are about ensuring that children grow up in an atmosphere of happiness, understanding and love, and have a say about their lives. At Children's Parliament we use a rights-based approach in our engagement with children so that they learn about and experience their rights as outlined in the UN Convention on the Rights of the Child (UNCRC). The UNCRC provides a set of minimum standards against which we can measure how we are doing and below which we must not fall. We therefore welcome the commitment of Scottish Government to incorporate the UNCRC into domestic law in Scotland.
Given the complicated nature of the consultation and the focus on legal mechanisms, it was challenging to make the information and questions accessible for children. However, as the incorporation of the UNCRC will have a direct impact on the lives of children, it was imperative that for our response we sought their views on how Scotland moves forward with the process of incorporation.
As part of the public consultation on the incorporation of the UNCRC into our domestic law in Scotland, Children's Parliament delivered workshops to explore children's experiences, views and ideas on incorporation of the UNCRC, embedding rights in public services, and redress for rights violations.
Specifically, this consultation gathered children's views on the following themes and associated topics:
Incorporation of the UNCRC

The meaning of incorporation and the different models of incorporation that Scotland could adopt
The difference between compliance and due regard
The role of General Comments and the Concluding Observations from the UN Committee on the Rights of the Child

Embedding rights in public services

Non-legislative activities that would help implement the UNCRC
Consideration of timescales to embed the UNCRC into law

Redress for rights violations

Statement of compatibility with UNCRC for any new legislation
Raising complaints in court if children's human rights are not respected or fulfilled
This report, along with our catalogue of past work, has informed a full Children's Parliament response to the Scottish Government consultation on incorporation of the UNCRC.
---
The participating children
The 22 Members of Children's Parliament (MCPs) involved in this consultation have been part of other Children's Parliament programmes, projects and consultations. Due to the complexity of the themes presented in the Scottish Government consultation paper on incorporation of the UNCRC, we felt it important to work with children who had an established awareness and understanding of children's human rights and the UNCRC. This allowed them to discuss the themes with greater confidence, nuance and detail.
We delivered two workshops, involving children age 10 to 14 from five local authorities: Aberdeen, Dundee, East Lothian, Edinburgh and Fife. These children had previously participated in the following projects:
Imagining Aberdeen
Scottish Learning Panel, Dundee
Children as Human Rights Defenders, East Lothian
What Kind of Edinburgh
Seen + Heard Fife
---
Consultation response
Below you can find formal and children's responses to the consultation. Click to view and download the reports: