The Scottish Government is currently undertaking a process to amend the Nutritional Requirements for Food and Drink in Schools (Scotland). Introduced in 2008, the regulations set the minimum required nutritional standards for the food and drink that children and young people are served throughout the school day. In addition to engagement with adult stakeholders, the Scottish Government commissioned Children's Parliament to facilitate workshops with children and young people in order to explore their views on the food and drinks provided in school.  
Children's Parliament facilitated workshops with 236 Members of Children's Parliament (MCPs) between the ages of 5 and 16 years old. 121 boys and 115 girls took part in this consultation. To ensure that children living in urban, rural and remote locations were included, we worked in seven settings – five primary schools and two secondary schools in the following local authorities: Edinburgh, Glasgow, Midlothian, Aberdeen, Highland, the Western Isles and the Scottish Borders.  We sought to work with children from diverse backgrounds, experiences and abilities so that a range of views would be reflected in this report.  In addition to the workshops, an online survey about school food was facilitated with 201 children and young people between P4 and S6 from six of the schools.  
Along with the duty placed on Ministers and public bodies in the Children and Young People (Scotland) Act 2014 to consult with children and young people, it is also good practice to ensure that children are actively involved in planning and decision making at a national level. This is especially important when legislation bears a direct impact on their lives, as will these changes to the regulations for school food and drink.  This report will help ensure that the voices of children are reflected in the strategic and legislative developments taken forward by Scottish Government which aim to improve children's lives at school and their health and wellbeing.

---
Consultation Report
Click the image below to view and download "It's time for something new", Children's Parliament School Food Consultation (2018) report.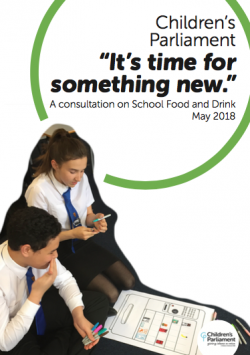 ---
Thank you to MCPs and staff from: 
Bramble Brae Primary School, Aberdeen
Coldingham Primary School, Scottish Borders
Dalmarnock Primary School, Glasgow
Drummond Community High School, Edinburgh
Lundavra Primary School, Fort William, Highland
Penicuik High School, Midlothian
Sgoil an Rubha, Isle of Lewis, Western Isles
Link to Scottish Government consulation: https://consult.gov.scot/support-and-wellbeing/food-and-drink-in-schools/
Link to the Children's Future Food Inquiry: https://foodfoundation.org.uk/childrens-future-food-inquiry/