How are you doing? (September 2020) This is a survey for 8 to 14-year-olds living in Scotland. The survey is about you and how you feel about life at the moment.

---
How are you doing? Survey report for April/May/June 2020
This is a full report using results from our survey from April, May and June.
Thank you to our colleagues in Public Health Scotland for support.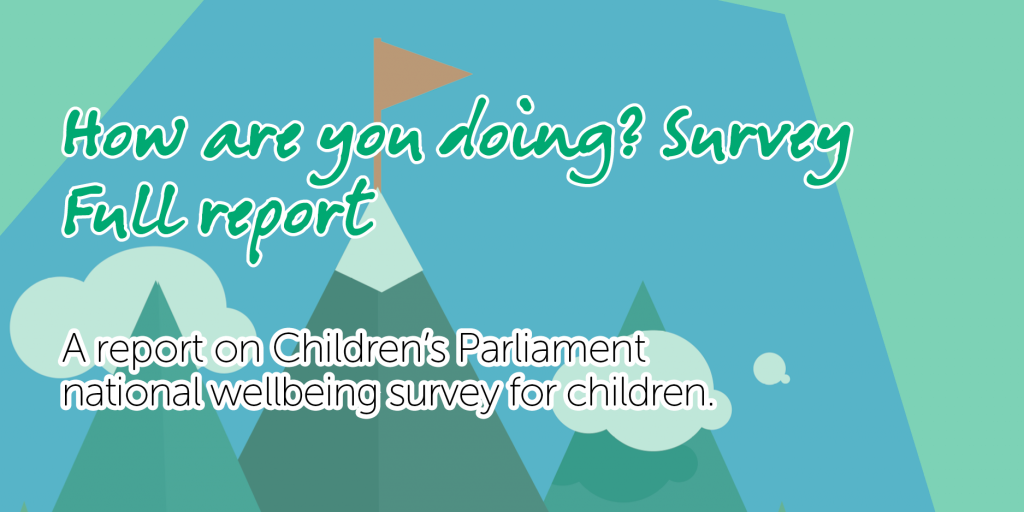 ---
Information for practitioners
childrensparliament.org.uk/childrens-journal-4/(opens in a new tab)
Are you a practitioner or policy maker? We have created a downloadable PDF, which outlines how you can use what children are telling us about their experience of Coronavirus and lockdown.
---
Corona Times: Children's Journal
Created with our Members of Children's Parliament, the Corona Times Journal is helping adults to understand the impact that the coronavirus is having on children's lives. Read more from our MCP journalists by following the image links below.
Click to view: Corona Times Journal, Edition 5, 29th June 2020: Finding out how children get news and information about the pandemic – and checking in on learning and health
Click to view: Corona Times Journal, Edition 4, 11th June 2020: Easing lockdown and thinking about recovery
Click to view: Corona Times Journal, Edition 3, 25th May 2020: Learning at home and the return to school
Click to view: Corona Times Journal, Edition 2, 14th May 2020: Health and wellbeing including sleep, food, being active, feelings and relationships
Click to view: Corona Times Journal, Edition 1, 30th April 2020: Coming to terms with lockdown
---
Information for families/under 8s
Help and information for children
Information for adults

Children's Parliament is an organisation based in Scotland. We work with children from the early years up to 14 years old. Our dream is that children grow up in a world of love, happiness and understanding. Our mission is to inspire greater awareness and understanding of the power of children's human rights and to support implementation of the United Nations Convention on the Rights of the Child (UNCRC) across Scotland.
At the moment children and families across the country are dealing with important changes about how we live our lives. At Children's Parliament we work with children (and the adults who love, care and work with them) to make sure that children have their say on all kinds of things about life at home, at school and in the community. If you check out our website you will see the range of work we do https://www.childrensparliament.org.uk/ and how amazing the insight children provide really is.
We think it is important that we adults listen to and understand the perspective of children during the current coronavirus pandemic. We plan a regular children's survey so that we can find out how children are doing now, and as time passes. The content of our survey is drawn from previous work we have developed and tested. We do not ask children for names or other identifiable information in the survey. Your child might welcome some help, or wish to do it on their own. We say at the end of the survey that if there is anything they want to talk about more they should talk to a parent, carer or other trusted adult. On this blog site we also provide a link to ChildLine who provide great information and support. You might want to check this out and talk about it with your child: https://www.childline.org.uk/info-advice/your-feelings/anxiety-stress-panic/worries-about-the-world/coronavirus/
If you have any questions about Children's Parliament you can contact us via info@childrensparliament.org.uk
---