The Corona Times Journal will help adults to understand the impact that the coronavirus is having on children's lives.
It can also encourage conversations between children and between children and adults. Our journalists are twelve Members of Children's Parliament (MCPs), aged between 8 and 14 years old. There are 5 girls and 7 boys. In this journal, our MCPs use pseudonyms.
Pseudonym – word of the day! A pseudonym is like a false name, sometimes called an alias. It means that someone can be anonymous, so no-one else can identify who they are.
The themes that our journalists have explored for this first journal include learning at home and being online. The children also reflect on being bored, feeling good, and share some of their questions and worries.
We have left the comments open, please do leave positive feedback for the children (all comments are moderated).
---


Every Gathering of Children's Parliament starts with a check-in – sometimes just called the chicken… so, how are our journalists doing?
Our journalists are mostly doing okay, supported by families, pets and keeping in touch with friends remotely. For some, emotions are up and down. They report it helps when you can get outside or have sisters or brothers to play with. For some children routines are different and they can feel tired. There is a sense that this new-normal is something you just have to manage as best you can.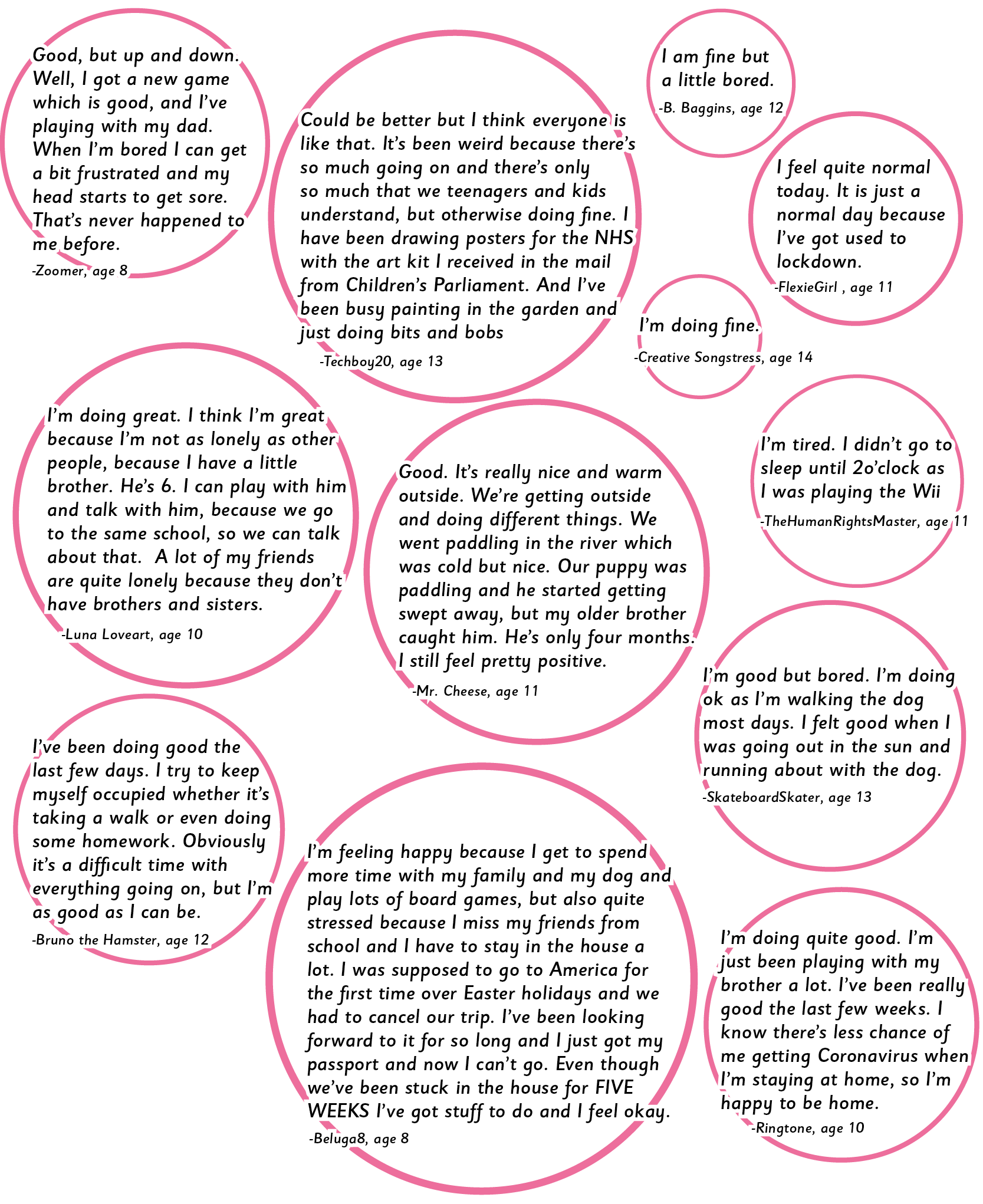 What has changed most in the past few weeks?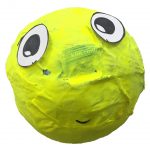 Our response to coronavirus means children have lost the normal contacts they have outside home, going to school and taking part in other community activities with friends. Children can feel 'stuck' inside, especially those that don't have their own garden or when going out doesn't feel safe. Our journalists are also detached from family members. For some of our journalists this has meant a loss of contact with a parent they normally live with for part of the week, or perhaps a loss of contact time with a parent or family members when they are in kinship or foster care. Not being able to see someone you love can mean you worry about them.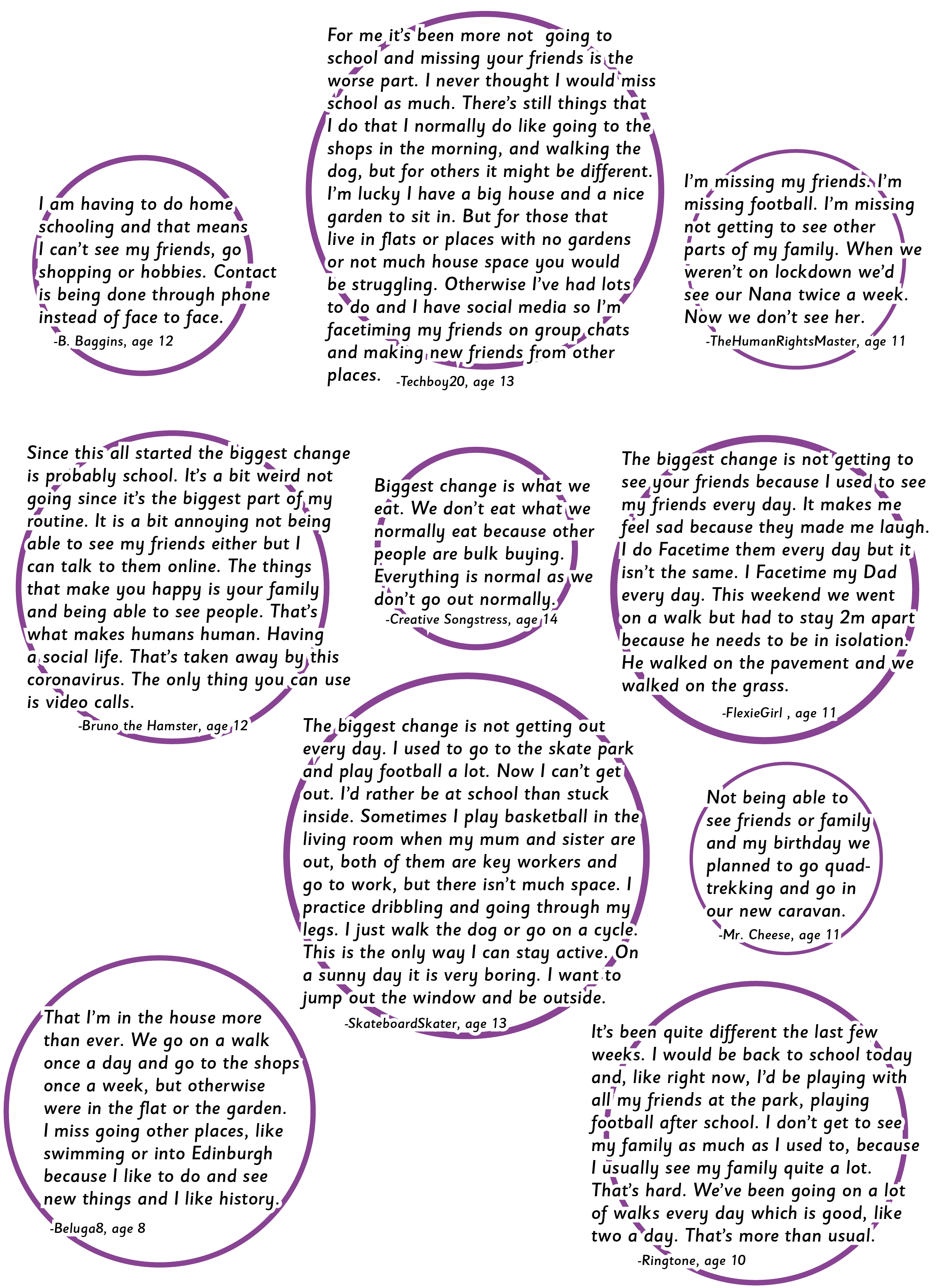 Learning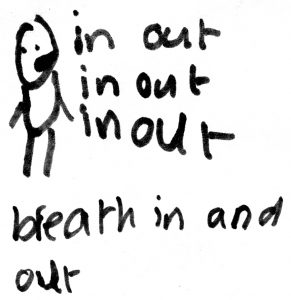 Some of our journalists are keeping busy with work coming home from school. Journalists also report that learning new things and learning and playing with parents, carers and sisters and brothers is also fun. There are now chances to do creative and fun things that you might not normally do in school, some teachers are encouraging this.
For some journalists learning at home is not so easy or so good for their learning. Help is not always available when you need it. Children might not have the technology they need to access what is being sent. Some journalists feel a bit overwhelmed by learning at home and are feeling stressed. Learning online and on your own doesn't suit everyone. Some of our journalists are not doing the learning activities that are being sent to them.
Some of our journalists enjoy being able to work at home because it is more relaxed than a classroom. The help that parents and carers can give is important, but they might not understand some of the work children need to do.


Being online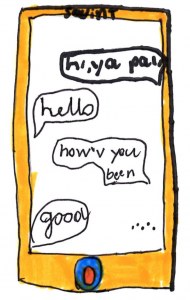 With our journalists spending so much time at home, being online becomes important for both social contact and for learning. As our journalists have already said learning at home doesn't suit everyone, if there are problems with being online this makes it more difficult. Journalists are very aware of the amount of time they are now spending online, they are using more social media platforms and connecting with friends as well as meeting new people online. Some children don't have the tech they need to do what they want for fun or for learning.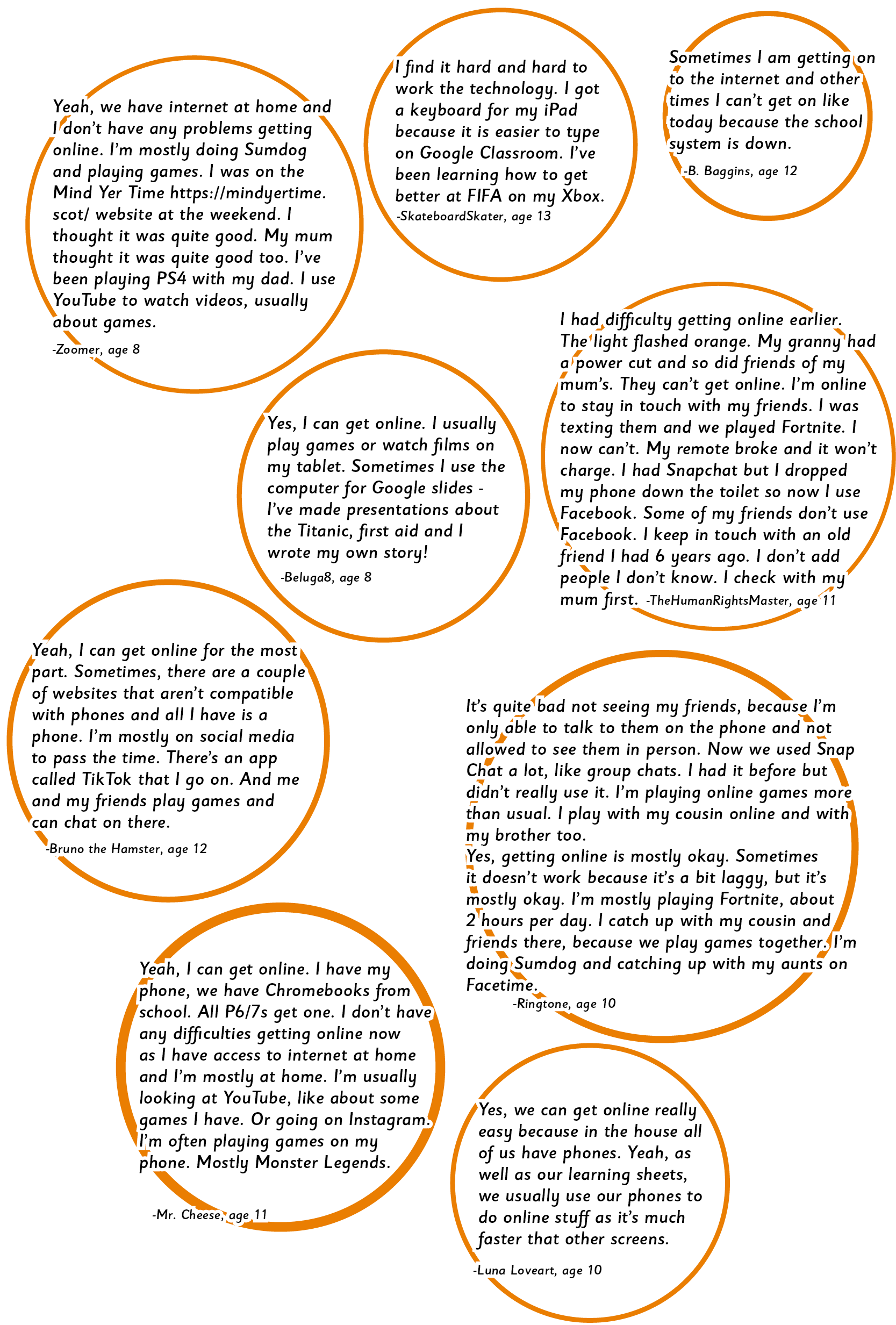 Being bored
Our journalists report that feeling bored is quite common. Each person has different ideas about how to deal with boredom. If children can get outside this is a big help, as are pets or sisters and brothers.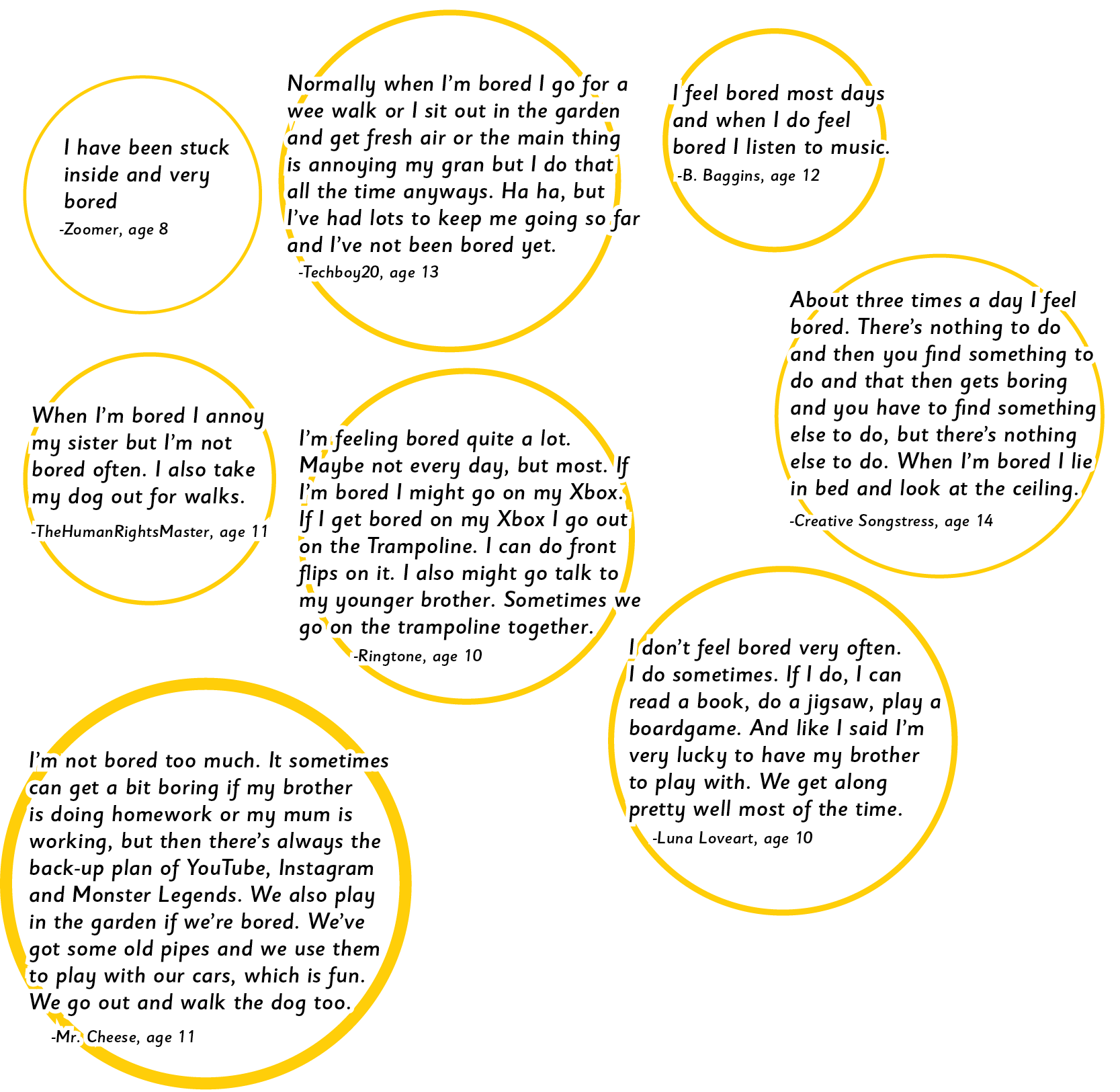 Feeling good
For our journalists feeling good is often about being connected to other people – family and friends. Playing makes you feel good. Being acknowledged for having achieved something also helps.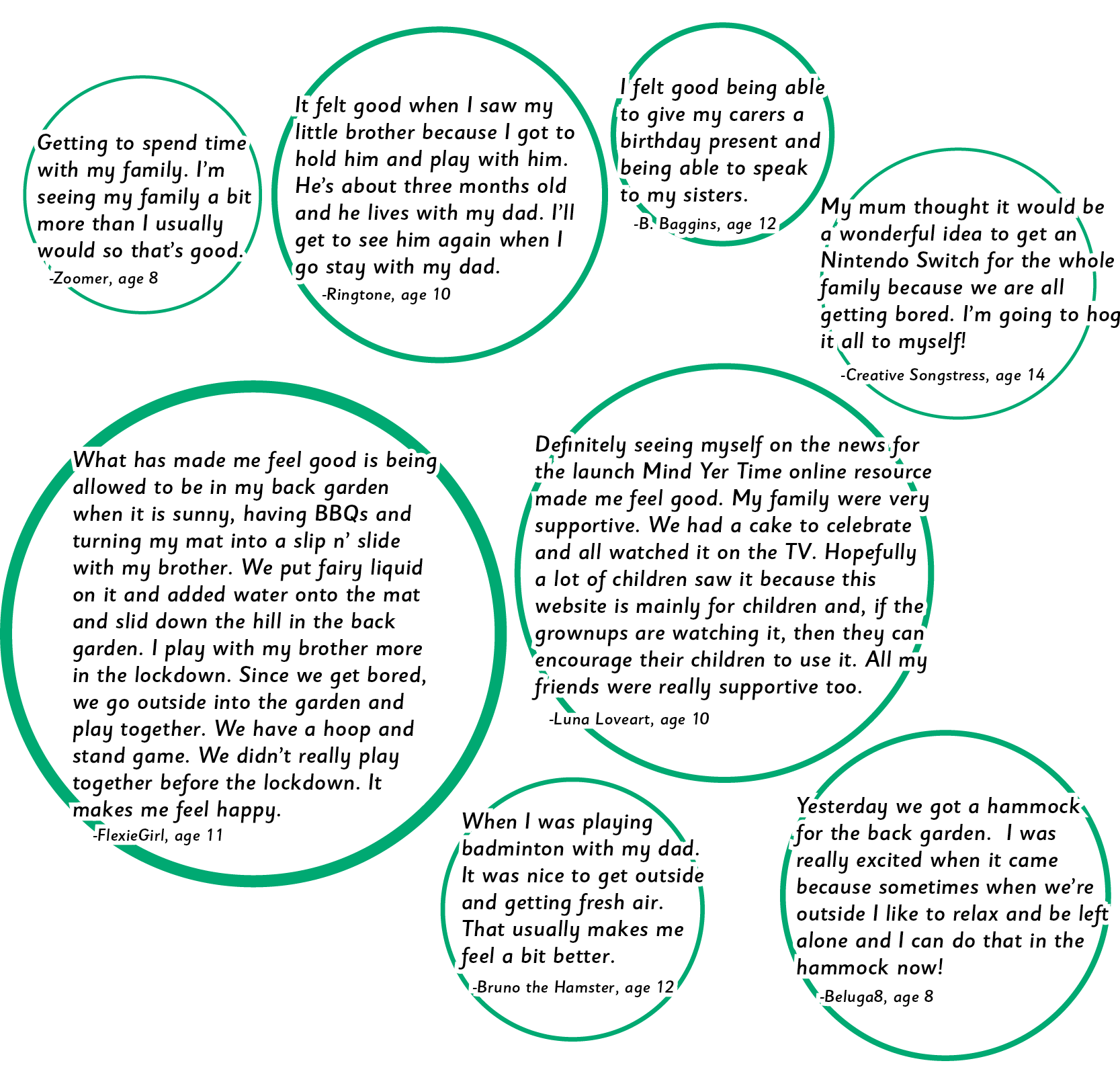 Questions and worries
Our journalists worry for family and friends who might be vulnerable to the coronavirus. For some children there is lots of information out there but they may not always understand it. Our journalists are keen to know when they might be able to get back to a time when they can play freely, see friends and go to school. For children who are in transition to a new school, especially to secondary school after the summer holidays, there are worries because there hasn't been much of an opportunity to visit and think through what moving there will be like.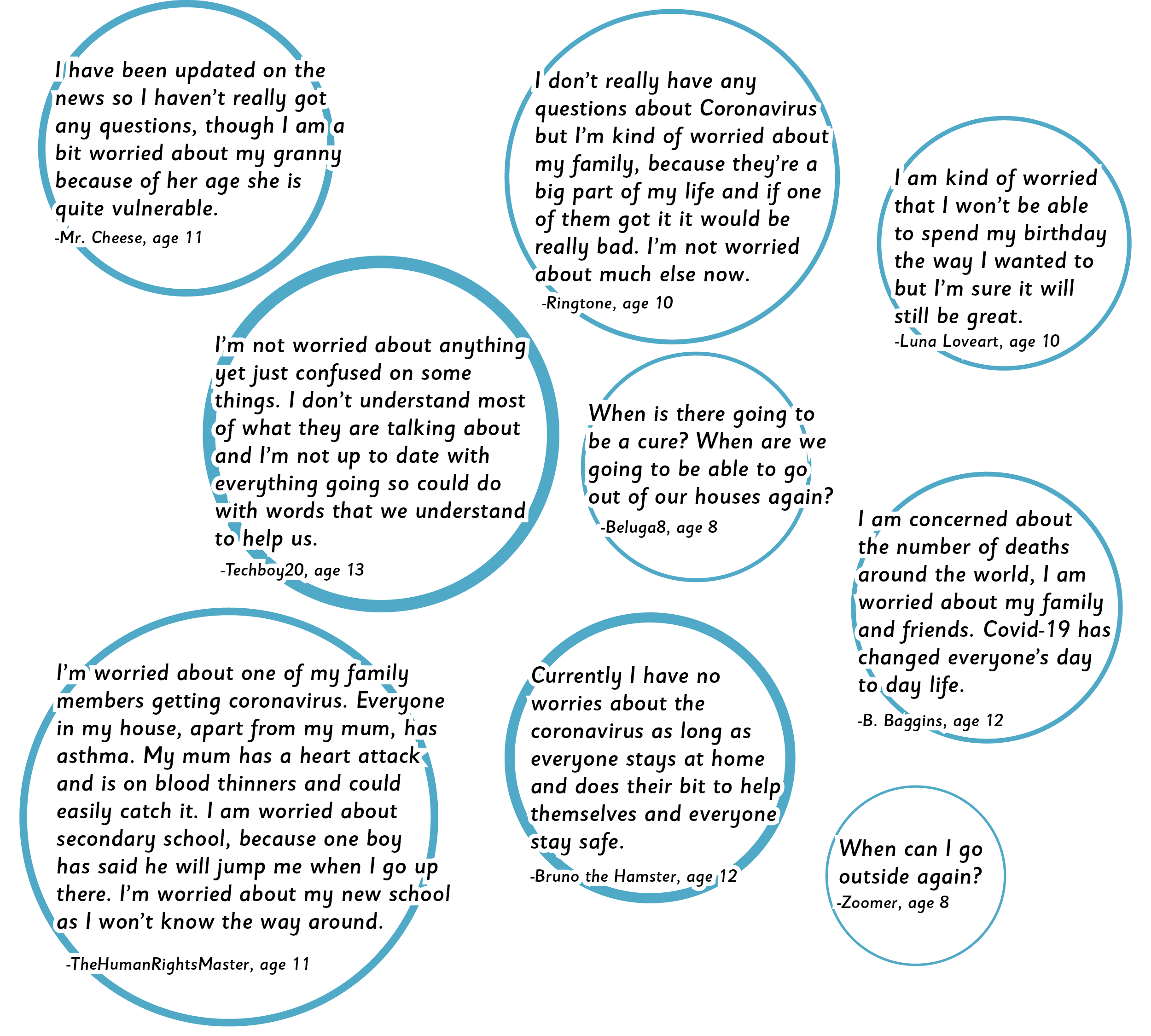 ---
Do you have something you would like our journalists to consider? Or any feedback for the children? Get in touch info@childrensparliament.org.uk with the subject line The Corona Times Journal.

---
Corona Times Journal: Edition 1