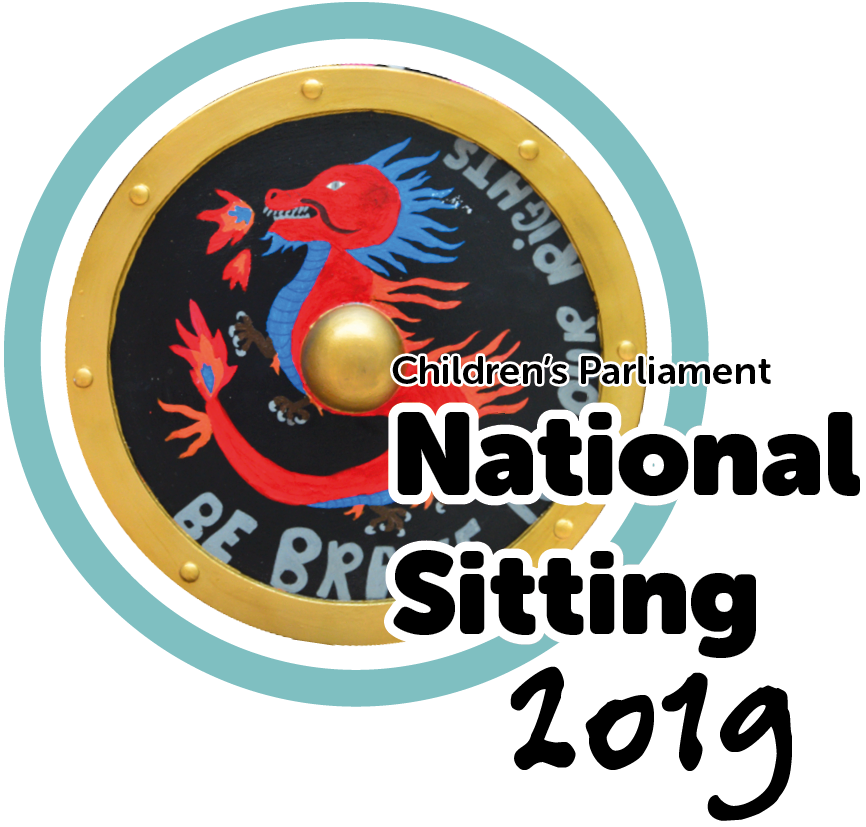 The 5th National Sitting of Children's Parliament brought together children and adults from across Scotland to celebrate 30 years of children's rights as enshrined in the United Nations Convention on the Rights of the Child (UNCRC). Our video, The time is now, captures children's participation from across the previous 23 years of Children's Parliament and was produced to mark the birthday of the UNCRC with a premiere at our National Sitting.
The Sitting welcomed a very special guest, Kate Gilmore – United Nations Deputy High Commissioner for Human Rights. Kate's visit was in support of our work together with other partners, to #MakeRightsReal for children in Scotland and to support the government's commitment to incorporate UNCRC into Scots Law. Below is an extract from an article in The Times newspaper, written by Kate to mark her visit to Scotland. Below this, you will also find a video of Kate's speech, delivered to Members of Children's Parliament and attending adults during the National Sitting.
The event culminated in a #MakeRightsReal march, from Edinburgh Castle to the Scottish Parliament. There, the children gifted Maree Todd MSP and Cabinet Minister for Children and Young People, a treasure chest of their work with Children's Parliament over the past year. Their voices have been captured through each of our projects and consultations, on topics ranging from mental health to an alcohol-free childhood, from defending children's rights to understanding what it's like to be a child with care-experience. We encourage you to listen to the children's voices and read the project reports to better understand what a Scotland with children's rights at its heart can feel like.
---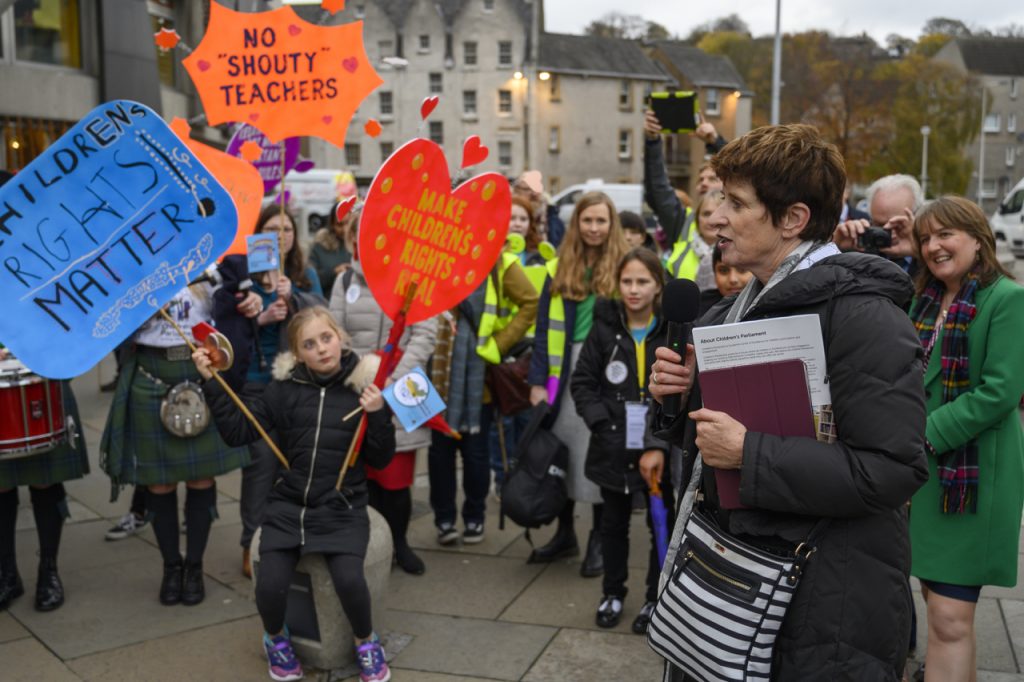 Kate Gilmore, UN Deputy High Commissioner for Human Rights, The Times, Wednesday 6 November 2019:
This month the world celebrates the 30th anniversary of the United Nations Convention on the Rights of the Child (UNCRC). Among other things, the convention states that every child has basic rights, including the right to life and to their own identity, as well as the right to express their opinions and to have them heard. It is the most widely ratified human rights treaty, a promise made by governments around the world to uphold those rights — but it is a promise yet to be fulfilled for millions upon millions of children.
In Scotland good progress has been made but children are still living with the consequences of all too many adult failings. I am honoured, therefore, to come to Scotland to stand with the children marching for their rights today in Edinburgh, demanding that adults be accountable. Children from all corners of Scotland are standing up for human rights, marching not only for themselves but to demand that the rights of others be protected and respected. And it's time that we all listened.
The self-awareness, understanding and unrelenting determination of children across Scotland to bring the UNCRC home is inspirational. These young people, including members of the Children's Parliament in Edinburgh, aged between eight and 14, not only know their rights but are vocal about why they must be respected. None of the members was born at the time the convention's 54 articles were signed in 1989.
Thirty years is a long time to wait for a promise freely given to be genuinely kept. This anniversary of the convention is a wake-up call. For the sake of this generation, we must all act with urgency to deliver on our promise: that we adults do all we can so that children everywhere can live, love and learn in dignity and equality, and with respect.
As Scotland's children are demonstrating, it is not only a question of upholding their rights right now, it is about the rights too of future generations to survive and thrive in a more just, inclusive and sustainable world.
Those marching today are human rights defenders. They are amplifying their voices to make the non-young listen. I am joining them to assure them that the world is watching. As they march to the Scottish parliament to celebrate the fact that the first minister has promised to incorporate the UNCRC into Scots law by 2021, they are also demanding that this promise be kept. Scotland is within touching distance of making good on this promise. And when it does, that truly will be worth celebrating.
Published 6th November 2019. Source: https://www.thetimes.co.uk/article/it-s-high-time-to-secure-the-rights-of-children-in-law-33d5jd5jl
Watch Kate's speech, given to the audience of Children's Parliament's 5th National Sitting, in the video below (27 minutes):
---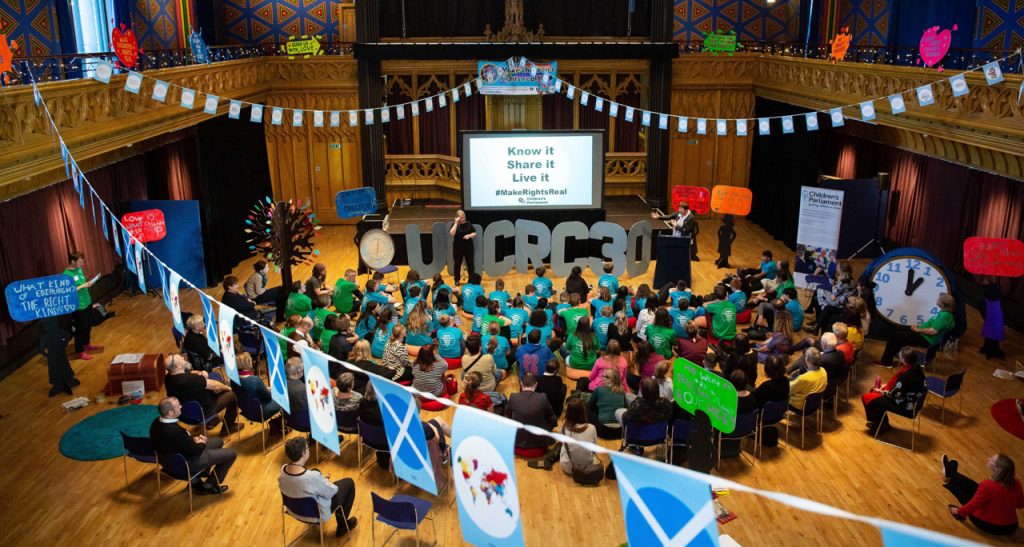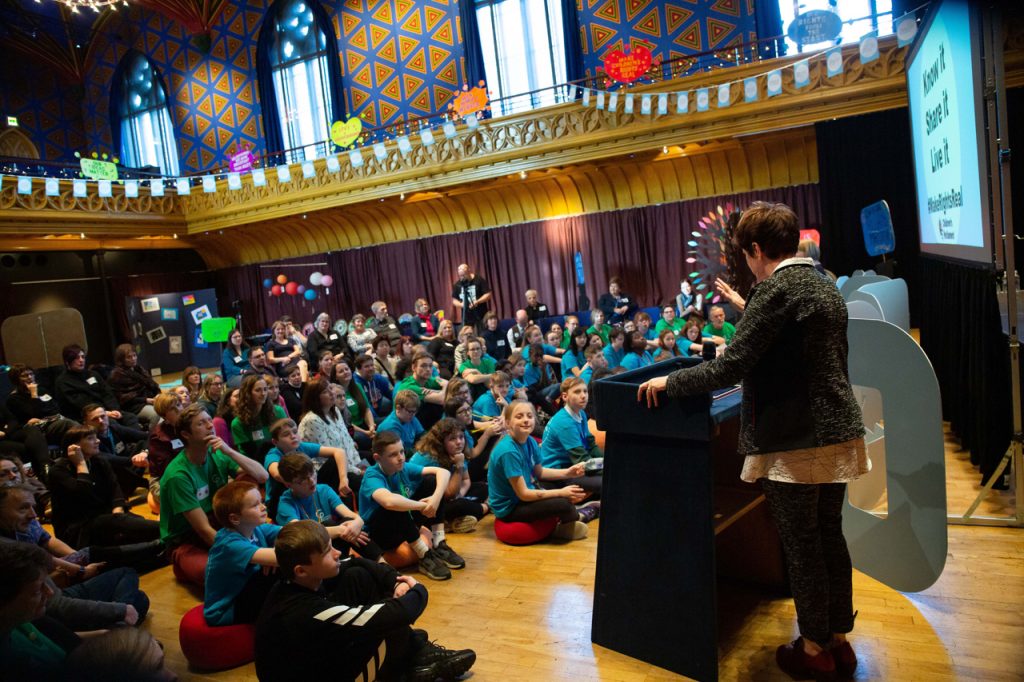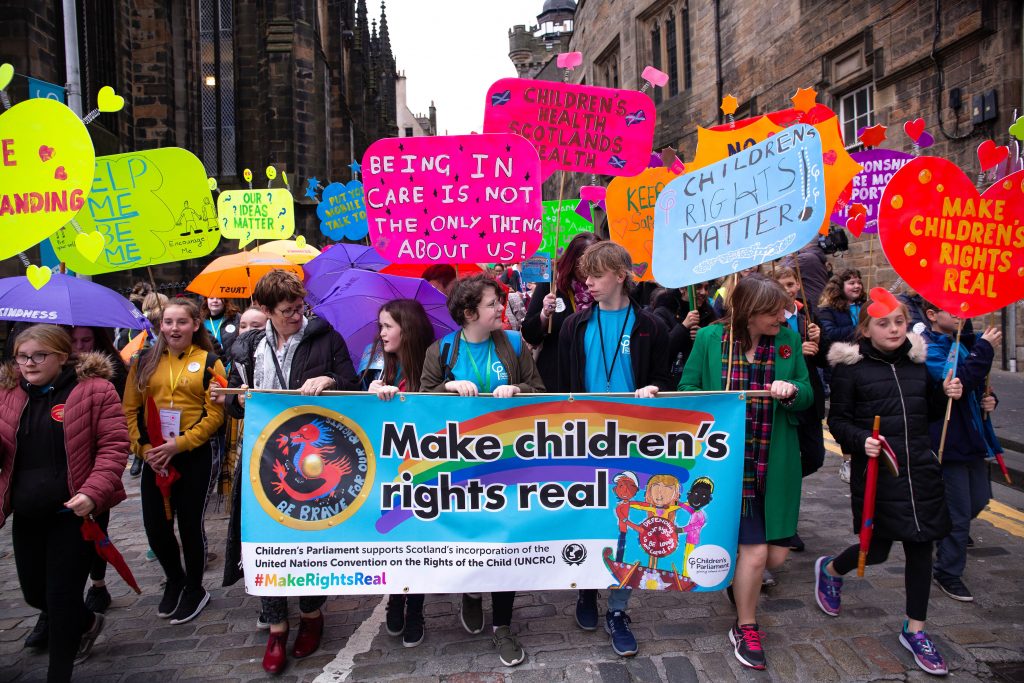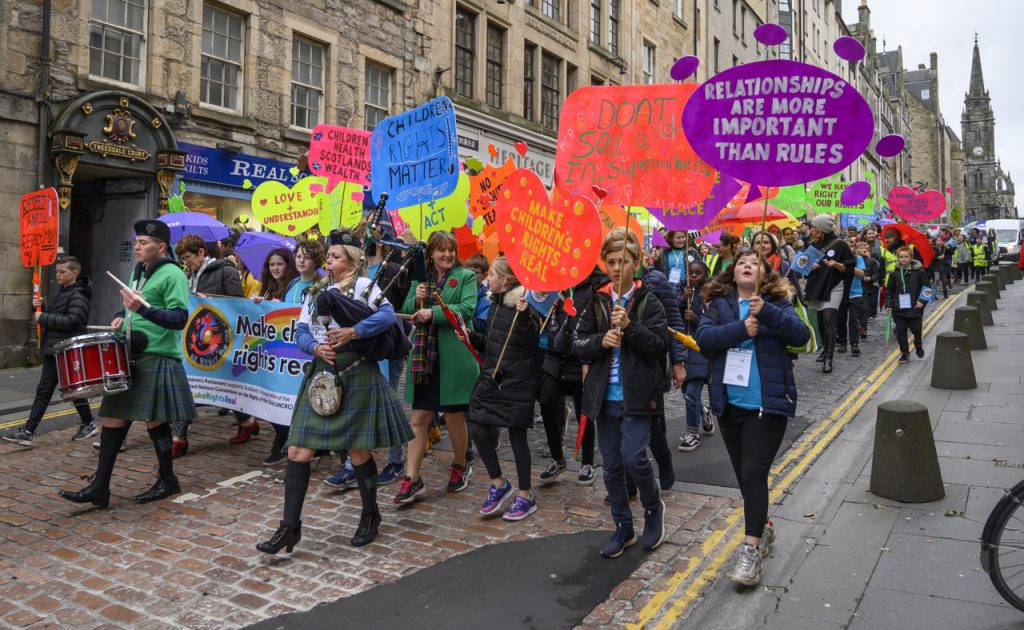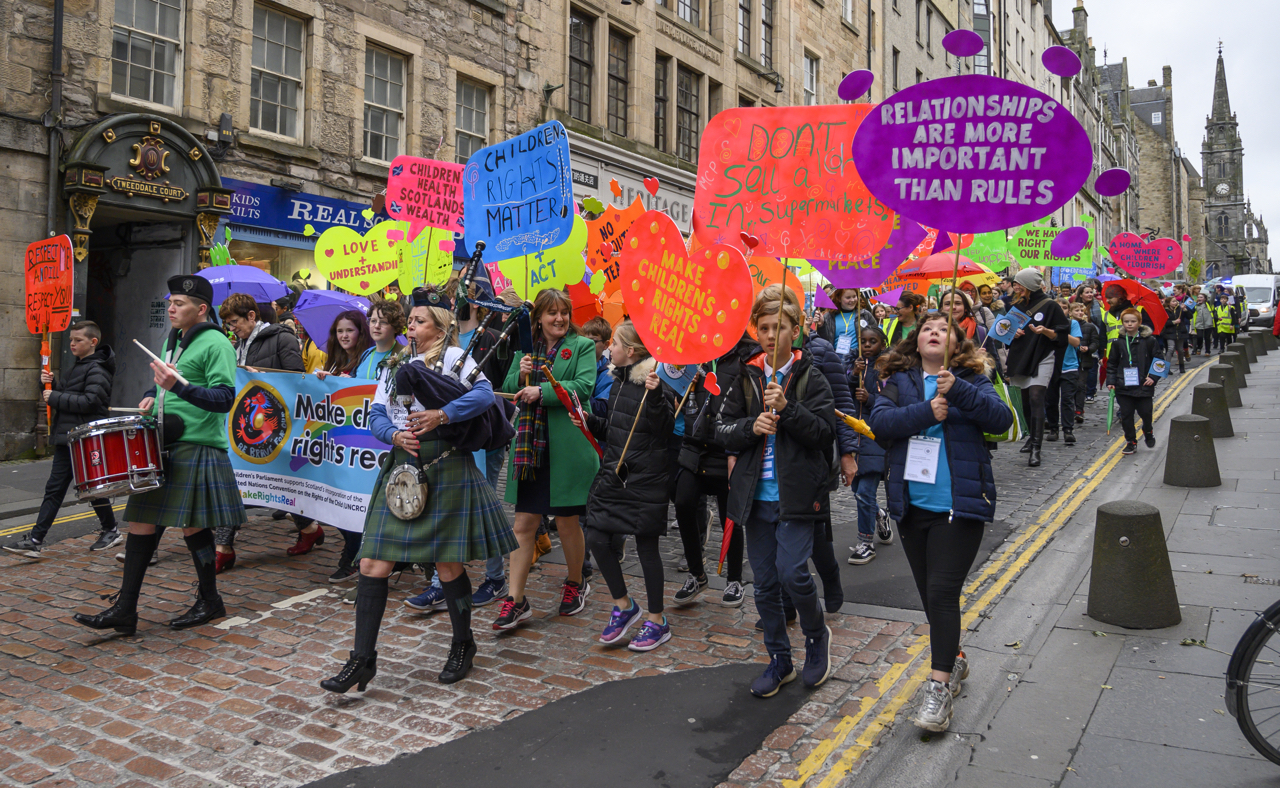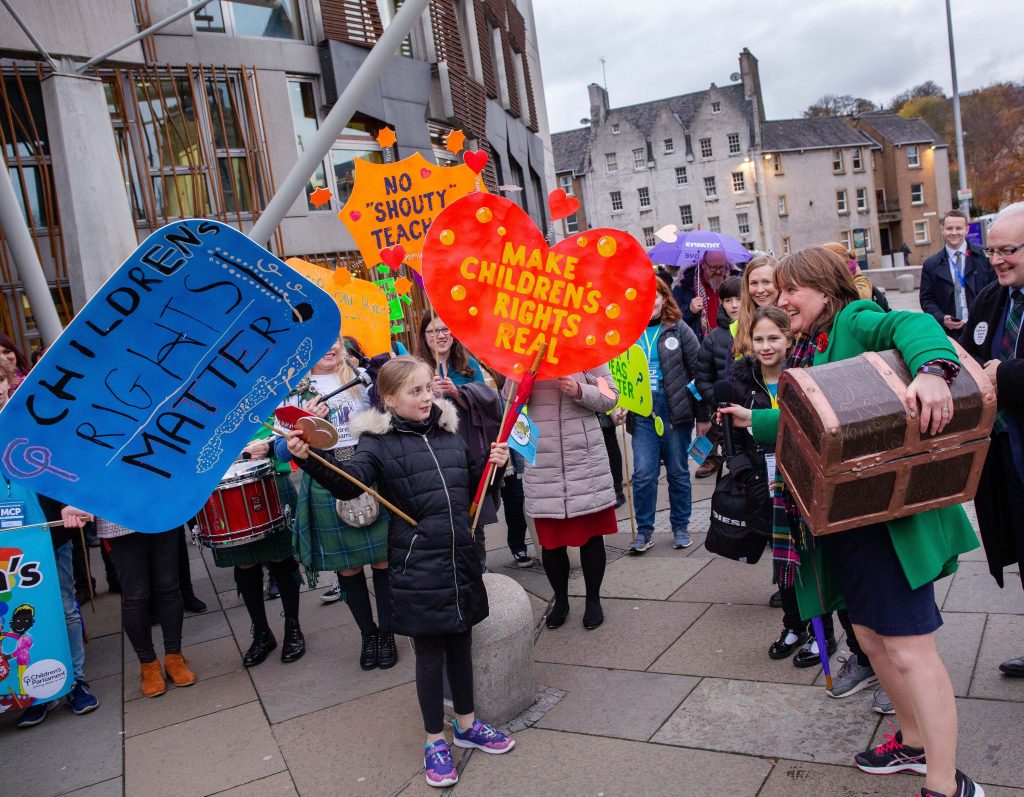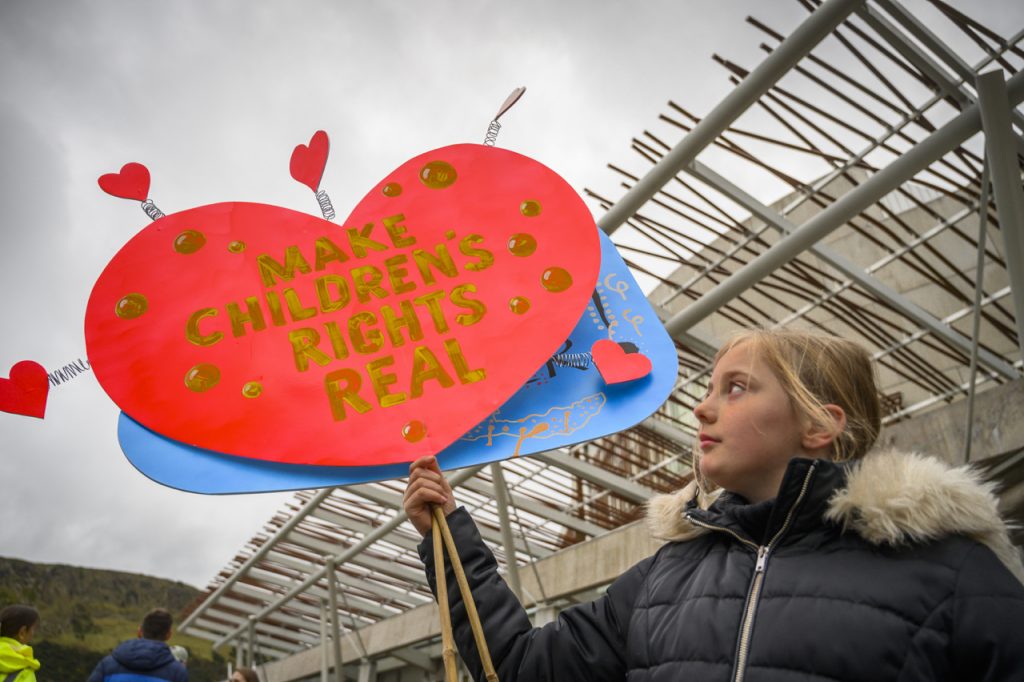 ---
For more about the incorporation of the United Nations Convention on the Rights of the Child, see Together's handy guide here: www.togetherscotland.org.uk/incorporation-of-the-un-convention-on-the-rights-of-the-child/