"I'm more than being in care" (2020)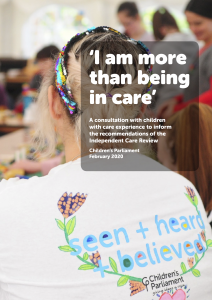 "As Members of the Children's Parliament with care experience, we think this report is important because it's sharing all of our thoughts and opinions about care and things we want to be different and better."
Read the children's full report here:
More than being in care (Report, 2020) ONLINE COPY
Download a printable copy of the report here:
A summary leaflet was produced to help share the children's key messages. Print-ready PDF available to download here:
More information about Seen + Heard Fife can be found below.
---
Seen + Heard is a creative, rights-based project for children with care experience age 9 to 12 from across Fife.
Using creative arts, Children's Parliament in partnership with Fife's Corporate Parent Board, supports groups of children to explore what it means to be healthy, happy and safe in care.
Members of Children's Parliament (MCPs) learn about their rights, have a say in matters that affect them and build relationships with adults who make decisions about their lives.
The children's views and experiences will inform decisions made by the Corporate Parent Board and help improve services for children with care experience across Fife.
What We Do
We have fun; creating models, playing games, exploring the outdoors, eating, forming friendships, doing arts, painting our treasure chests, sharing what's in our treasure chests, making muffins, trying new things…
We discuss our experiences of being in care and of the support and services we've received or would like to receive. We talk about Who We Are, Where We Live, Health & Happiness, Feeling Safe & Cared For, Freedom and Having Our Say…
Papier Mâché Week
The Papier Mâché Week asks the children to think about their future self; what kind of person would you like to be in 20 years time, what will that person be doing, what qualities will they have, who will be with them; what can you do between now and then to help you become your future self, what kind of support can others offer you to help you realise your dreams? It is a project about personal strength, empathy, working with others and the importance of having a dream. It can help to build confidence and connections
The Seen + Heard blog can be found here: blogs.glowscotland.org.uk/glowblogs/seenandheard/
---
Seen + Heard Poster
In 2018, what do care-experienced children need to feel happy, healthy and safe? Our Seen + Heard Fife group have produced a poster to tell us: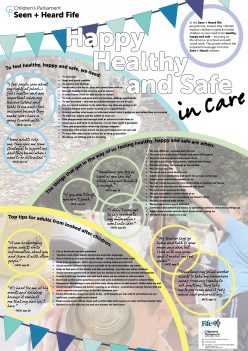 ---
Seen + Heard Newspaper
Click the image below to view and download the Seen + Heard Newspaper:

---
Gallery
---
Project Report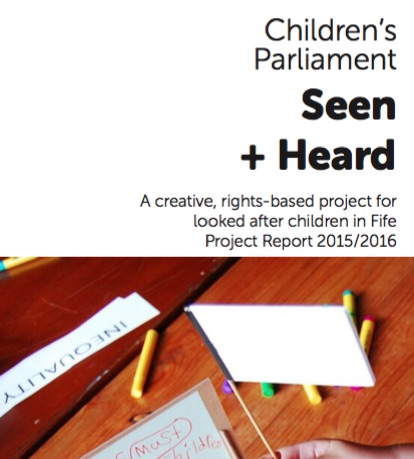 ---
Seen + Heard is funded by Fife Council