Making children's human rights real: #CabinetTakeover 2020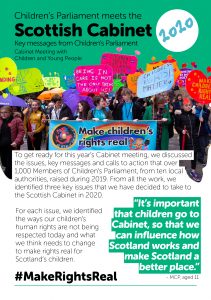 Children and young people will meet with the Scottish Cabinet this week. With support from the Members of Children's Parliament (MCPs) who attended the annual Cabinet meeting in 2019, a new group of seven MCPs have been exploring what happens in these important meetings, what issues they should raise and what role the Cabinet can play in Making Rights Real for Scotland's children.
As part of this, the new group looked at all the issues, key messages and calls to action that over 1000 children, from ten local authorities across Scotland, raised during 2019. From all the issues, key messages and calls to action, the MCPs identified three key issues to raise at the Scottish Cabinet's meeting with Children and Young People 2020. The children's issues and their ideas for how the Cabinet can help realise children's rights are captured in this booklet (click image to read online):
For more information and to discover what happened in previous years' Cabinet meetings, please click here.
---
Meet the children
Meet the attending Members of Children's Parliament and discover the issues they will be raising at the Children and Young People Cabinet Meeting 2020:
Children and Young People meet with the Scottish Cabinet 2020