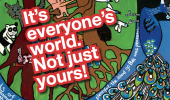 In spring 2008, 20 children who were Members of the Children's Parliament through several Community Groups operating at the time, were invited to take part in the Children's Climate Change Project. This innovative project engaged children in the global debate on climate change and particularly the national debate on the Scottish Climate Change Bill which was being developed by Scottish Government.
The Scottish Government did not directly target children in the formal consultations around the Bill. The organisations that developed the project felt that children should be engaged in this debate, not only as citizens in their own right but also because they have arguably the biggest stake in the decisions made about what we do to tackle climate change.
At a weekend workshop, the children from Fife, Western Isles, North Edinburgh and South Ayrshire created a 6-panel mural depicting their findings.
The project was brought together by WWF Scotland and Children in Scotland, and kindly supported by Scottish Government and Scotland's Commissioner for Children and Young People.
The MCPs and their mural participated in the 2008 Festival of Politics, and two MCPs, accompanied by the mural, were invited by Scottish Government to Brussels in June 2009 to present at an EU Green Week event 'Climate Change – Act and Adapt'.
---
Media
---
Report
---
Artwork facilitated by Joanna & Yonnie