"Being responsible for a child means giving them a good life"

– MCP, age 9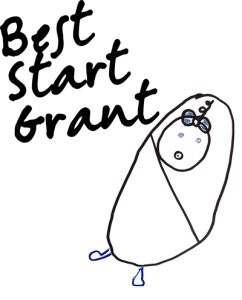 As part of the new social security powers, which were devolved to Scotland through the Scotland Act 2016, the Scottish Government is planning to introduce a new benefit called the Best Start Grant. The Best Start Grant is split into three payments providing support to lower-income families during key transition periods in a child's early years. The grant aims to help mitigate the effects of child poverty and material deprivation. The payment amounts are: Maternity and New Baby Payment: £600 for a first child and £300 for any subsequent child; Nursery/Early Learning Payment: £250; School Payment: £250.
In addition to a wider public consultation on the draft regulations for the Best Start Grant, Scottish Government has commissioned Children's Parliament to deliver a consultation with children to explore their views on and ideas for the Best Start Grant.
In the workshops, the children discussed:
What it means to 'be responsible for a child'
What the Best Start Grant could be spent on at each stage
What difference this could make for families
This consultation on the Best Start Grant follows our recent consultation on the Child Poverty Bill and Delivery Plan – www.childrensparliament.org.uk/child-poverty. One of the recommendations children have made in the Child Poverty report is to provide additional financial support to families who are struggling. For the Best Start Grant, we returned to speak with some of the children who took part in the Child Poverty consultation, so that they could use their previous discussions to inform their ideas. In the Best Start Grant consultation, workshops involved 43 Members of Children's Parliament (MCPs) between the ages of 8 and 12 years. 21 boys and 22 girls took part. We worked in three schools in the following local authorities: South Lanarkshire, Fife and the Scottish Borders. These areas were selected using SIMD data to identify areas where poverty might impact directly or indirectly on children's lives. We sought to work with children from diverse backgrounds, experiences and abilities so that a range of views would be reflected in this report.
Thank you to MCPs and staff from:
Auchinraith Primary School, South Lanarkshire
McLean Primary School, Fife
St. Ronan's Primary School, Scottish Borders
---
Report
Access the Best Start Grant report: Best Start Grant (2018)
---
Gallery