Children's Parliament is taking part in Kiltwalk 2017 to raise awareness of children's rights and we are asking you to join us!
Locations and Dates
Aberdeen – Sunday 4th June
Dundee – Sunday 20th August
Edinburgh – Sunday 17th September
Fundraising
Thanks to one of our founding Unfearties, Sir Tom Hunter, the Hunter Foundation will ensure that 110% of all the funds you raise will come to us. To register visit www.kiltwalk.co.uk, select the date of the event that you wish to take part in and select Children's Parliament as your nominated charity. There is a nominal kiltwalk fee for registration (this varies depending on the length of kiltwalk you choose to take part in), but all the funds you raise will go towards supporting our work.
Will you join us?
The Children's Parliament team will be taking part in the Edinburgh Kiltwalk on 17th September. You are welcome to join us or you can also register for the kiltwalk event closest to you and nominate us as your chosen charity. Please get in touch with us if we can help, or see the Kiltwalk FAQ page for anything relating to the events (thekiltwalk.co.uk/advice/faqs)
What will your fundraising support?
Your support will allow us to set aside funds to support children's participation in a range of participative processes locally, nationally and internationally. Working with children to explore what works and what doesn't work for children allows us to design and develop services that better meet children's needs.
For example; thanks to the support of local community partners, 2016 saw children aged 9 – 11 from Tranent, East Lothian take part in the UN Committee on the Rights of the Child's Day of General Discussion on 'Children's rights and the environment' in Geneva. The children addressed international delegates in the conference hall, followed by direct conversations with delegates and UN staff around the the children's StreetsAhead Tranent mural – for photos, video and more information see childrensparliament.org.uk/underthesamesky
2017 is an exciting year for Children's Parliament as we celebrate 21 years of standing up for and alongside children. Our work demonstrates that implementing a children's rights approach, which has respect and human dignity at its heart, helps to keep children healthy, happy and safe. Your support will help us continue this important work and provide further opportunities to include children's voices.
Thank you on behalf of the Children's Parliament, we hope to see you at the 2017 Kiltwalks!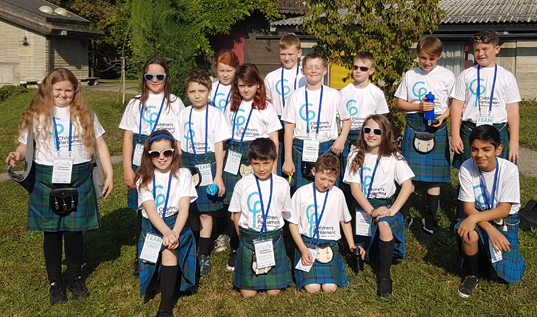 ---
#Unfearties
Be a Kiltwalk Unfeartie and walk for children's rights in 2017!