'This is what effective participation looks like. This is what we're trying to get governments to understand and to do.'
– Amal Al-Doseri, Vice-Chair, United Nations Committee on the Rights of the Child
'We are all so grateful for the opportunity [our daughter] had here. Chance of a lifetime and an experience that has and will impact her life in so many positive ways.' 
– Parent
---
Under the Same Sky 

is an international constellation of projects exploring children's rights and the environment. Children's Parliament's StreetsAhead Tranent project represents Scotland's contribution to the constellation. Five other contributions come from Mozambique, Zimbabwe, Palestine, Australia and Brazil.
These projects were featured at the United Nations Convention on the Rights of the Child Day of General Discussion 2016 on Friday, 23rd September.  During the day the StreetsAhead Tranent participants were asked to share their mural with delegates from all over the world, including members of the UN Committee on the Rights of the Child.
---
Gallery
---
Media
The Under the Same Sky Constellation film as shown as part of UN Day of General Discussion 2016.
The film below explores the children's experience of the day and highlights the importance of children's participation in such events.
To read the twitter feed from the day please see our Storify of the event
For more information about the UN Day of General Discussion and the impact this event is set to have, please see the United Nations website: UNCRC Day of General Discussion 2016
---
Newspaper
An online newspaper was created to document the project and share the children's input beyond the UN Day of General Discussion 2016. Download a printable and online version below:
Under the Same Sky Newspaper (Print version)
Under the Same Sky Newspaper (Online version)
---
Quotes
These quotes are taken from some of the comments we received from delegates attending the UN Day of General Discussion 2016:
'This is genuine participation'
'When will governments realise this is what we're looking for?'
'The children truly own this. It's wonderful'
'What you have brought to us today is truly inspiring'
'What you're doing here is outstanding'
---
Resources
Download the Project Toolkit below to explore ways to replicate the Under the Same Sky project outcomes in your community: Under the Same Sky Toolkit (2016)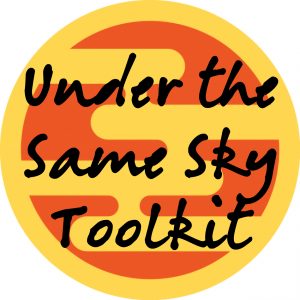 ---
Project delivered in partnership with: