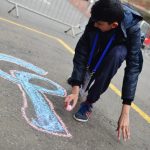 There are so many ways to measure the impact of Children's Parliament's work. We endeavour to measure both qualitatively and quantitatively to capture the outcomes of taking a human rights approach to children's participation and engagement.  However, sometimes we can miss the obvious! 
Over the last year we have been struck by the number of times children have told us that their experience with Children's Parliament was a first.  Here are some of our MCPs' firsts: 
---
1.
Two MCPs flew on a plane to another country for the first time in their life, one attended the UN Day of General Discussion in Geneva and the other flew to the Eurochild conference in Croatia. Both were nervous, we accompanied one child on a trip to the airport beforehand to help steady their nerves, but both loved their experience and want to do it again.
2.
Trying new things is always a challenge, but we were delighted when one MCP told us it was the first time they'd eaten raspberries!
3.
One of our Human Rights Defender MCP was interviewed for his first ever magazine article. He was rightly very proud of himself and was extremely brave to share his personal experience of being bullied. 
4.
In our Seen + Heard Fife programme we support children who are care experienced, one MCP said it was the first time they had met another child who was in foster care. 
5.
Unleashing creativity is an essential part of Children's Parliament. This year, we were delighted to be told it was the first time MCPs have built a den, climbed a tree, learnt how to paint and sung in front of others. 
6.
Two MCPs in different projects shared with us that being in one of our programmes was the first time they'd managed to regulate their behaviour. One said they hadn't sworn for the whole day, the other said they'd managed to 'not hit out' when the actions of others were distressing them.
7.
One of the parents of a child participating in our What Kind of Edinburgh? project told us that it was the first time their child had ever been selected for anything in their school!
8.
Using film to capture children's voices is an important tool for Children's Parliament and most of our MCPs tell us that it's the first time they have ever been on film, and that seeing themselves on film gives them confidence and pride in themselves. 
9.
One MCP from Aberdeen has recently travelled to Edinburgh for a Learner Panel event, it was his first time on a train and he 'had so much fun'. 
10.
We often write to our MCPs to thank them for their work and recently two of our MCPs told us that it's the first time they have ever received a letter addressed to them in the post! 
11.
First pen pal!
Hi, it's Elisha! We are just about to land in London on our way home from #eurochildconf – I had a fun time at the conference, and I made my first pen pal from France 🇫🇷 I feel proud of myself,Mackenzie and Ben for our performance when we presented!👍👌😀😁😘😂 pic.twitter.com/9A2ZXMfdhK

— Children's Parliament (@Creative_Voices) October 31, 2018
---
We have so many more firsts to share, including going to see a live play, speaking at a school assembly, meeting the First Minister, but we'd have to write a book!  Let's not overlook the significance that these seemingly small experiences can have on someone's life, and let's never underestimate what children can do!
#CPYearinReview: F is for Firsts