Adventures at home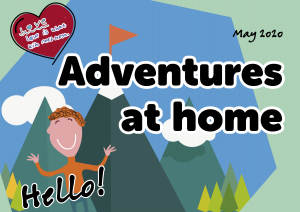 At Children's Parliament, we've thought about what the coronavirus situation means for children's human rights. By designing and creating Adventures at home, we were able to compile an adventure pack for all 127 current Members of Children's Parliament (MCPs).
Packed with creative activities, materials and surprises, each Adventures at home activity pack included our Adventures at home newspaper, full of top tips from Members of Children's Parliament. We share this here with the hope that it can support children and adults to make children's human rights real at home during the global pandemic. We encourage you to share this with children in your homes, schools and communities.
Grounded in children's human rights, the newspaper includes ways for children across Scotland to share their views and experiences through the links to our national survey for children aged 8-14 and The Corona Times journal – more info here.
Download: Adventures at home (2020)
Download: Fingerknitting method
---
Wee Book of Promises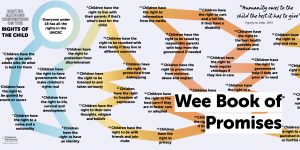 Designed as a small gatefold booklet, the Children's Parliament's Wee Book of Promises communicates the United Nations Convention on the Rights of the Child (UNCRC) using accessible language. The booklet is used in all of Children's Parliament's work and Members of Children's Parliament receive a copy when they participate in our projects and consultations.
You can download the booklet at the link below. Printed copies are available from the Children's Parliament office, call 0131 558 9030 for a quote.
Download: Wee book of promises (UNCRC booklet) 2019
---
Teaching Resources
Thinking and learning
The Children's Parliament is interested in thinking and skills for thinking and, like Curriculum for Excellence, in deep learning which involves knowledge, understanding and the skills needed to apply knowledge in useful ways.
Download our Thinking Skills PDF here
Links with Curriculum for Excellence
While most consideration has been given to Curriculum for Excellence in the school context it should also help frame children's learning in all contexts, including when they are involved with the Children's Parliament. In this paper we identify how CP participation contributes to a child's learning.
Download our Connecting to the Curriculum for Excellence PDF here
Links with nurture
When Children's Parliament works with children there are many aspects of how we work which reflect the nurturing approaches that are increasingly found in schools and other settings.
Download our Nurturing Approaches PDF here
---
Other resources
These Children's Parliament resources are free to be downloaded for information or use in your setting.
Download: Human rights belong to all of us (Leaflet)
Download: Children's Parliament Rights-Based Approach (Leaflet)
Download: Introduction to Children's Parliament (Leaflet)
After completing every project Children's Parliament produces a written report, these can be found on the project pages throughout our website.