Children's Parliament: there may never have been an organisation in Scotland that has had so many questions asked about its name. And not just questions, occasionally real challenges. Why children, what can children tell me about policy or strategy or planning? What do you mean a Parliament, do you have elections and do these children represent anyone?  But almost 21 years on (yes it's a big birthday next year) the name has even more importance and meaning to us. Here's why.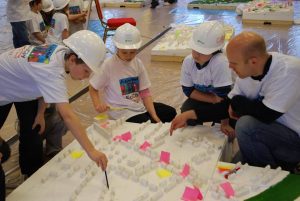 Many moons ago our founders – architect Howard Liddell, urban planner Drew Mackie and community educators Cathy McCulloch and Colin Morrison and a team of like-minded, good people – created and facilitated the first children's EcoCity project. Ten-year-olds from Scotland were joined by other ten-year-olds from Germany, Denmark and Norway. Together these children worked with artists, planners, architects and design professionals over the course of a week and they built a 40m.sq. scale model of an environmentally-friendly city of the future. It was awe inspiring. At the end of one of the build days children had put a representation of a new building in the centre of their urban landscape. Reporting back about their decisions the children said it was a Children's Parliament, an important place that adults would come to; where adults would have to listen to children. They told us that the word parliament came from a French word parler; meaning to talk or to speak. Their Children's Parliament was a place for children to be heard. Children gave birth to the idea and we adults felt a responsibility to make it real.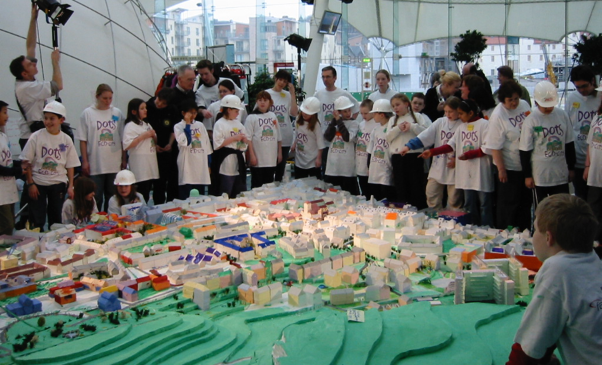 Why children? The impending 2018 Year of Young People has drawn us again to a discussion about why children are not young people. At Children's Parliament we work with children in early and middle childhood, so generally up to age 14, but predominantly children of primary school age. This is a special time for children as they develop both socially and mentally. During this time they are forming important relationships outwith their family whilst maintaining vital relationships with the key adults in their lives. For children, the adults in their lives are central; these adults provide guidance and support the child's growing autonomy. This is why the UNCRC sees family life and the rights of the child in this so called 'private realm', as so important.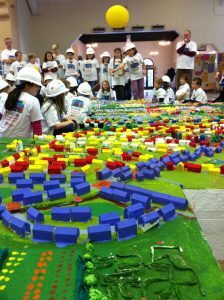 Of course we are all tied up in our cultural understanding of what childhood is, but in the public eye or media we seem only to consider it when some idea of childhood – innocence for example – is under threat. Certainly there are strong notions of wanting to protect children, but this is also a time to help them shape values, learn behaviours and practice skills that will provide a scaffold for the adolescent years and beyond. At Children's Parliament, our way to connect with the child is to use play and the arts, to be interested in their lived-experience and to give them participatory opportunities that are meaningful, fun and important. We engage and encourage participation in ways that build children's competence and understanding of themselves as citizens. Citizenship doesn't just happen when you are old enough to vote or formally debate with adults – it's built, one block at a time through the childhood experiences that say – "We love you. You matter. You have something to contribute".
So, back to those initial challenges. Wherever we engage with children it's our Children's Parliament space. A place to be heard.  A place to listen. Ten-year-olds are children, not young people. Nor are they adults in waiting. They deserve recognition – whether we think of them as a community of interest or simply a population group, they must be acknowledged as worthy of proper participation, and their place and contributions given value. Long gone are the days when others spoke for women, LGBT people, BAME communities or for people with disabilities. Failing to take the time, commit the resource, engage with appropriate methods, with children as children is equally inexcusable.
We are Children's Parliament. Look out for our 21st birthday programme!
–  Colin Morrison and Cathy McCulloch, Co-Directors, Children's Parliament
---
Watch the short film 'In our own words' to hear children talk about Children's Parliament.
Read more about Children's Parliament here.
Why Children? Why a Parliament?