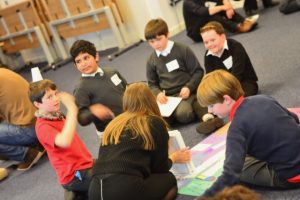 Over the coming months a team of Children's Parliament Investigators will meet with professional people to talk about childhood, children's human rights, and explore what professionals can do to make rights real.
Our Investigators are Members of Children's Parliament aged 9, 10, and 11 who live in Clackmannanshire and East Lothian. The children are investigating on behalf of children all over Scotland.
The Investigators will meet with adults who do all kinds of jobs that bring them into contact with children – in school, in different services for children and families, and in the community.
You can follow the story of the Investigation on our stand-alone site to be launched soon, and connect with us on social media. The Investigators will be publishing their findings as they go, so get involved. By March 2022, the Investigators will launch content that will help professionals understand how they can be champions for children's human rights. The first task is to set up the Investigation team.
We will start reporting soon.
---
Supported by Young Start