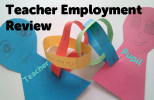 Following the McCrone Inquiry Report in 2000, Scottish Government undertook a Review of the Teachers' Agreement which defined the terms and conditions of employment of teachers in Scotland. The task was to consider evidence and make recommendations on future terms and conditions of teachers' employment. This process sought to secure improved educational outcomes for Scotland's children and young people, develop an appreciation of the changes required to respond to the evolving needs of society and realise the full potential of Curriculum for Excellence.
Children's Parliament was commissioned to submit evidence and worked with 3 groups: P5-P7 children; S1-S2 children; S3-S5 young people. Each group consisted of 20 participants. After a full day workshop they consulted with 4 peers, using creative approaches.
The workshops used the four capacities of Curriculum for Excellence (Successful learner, Confident individual, Effective contributor, Responsible citizen) as a basis for the children/young people's exploration of learning and the people who help them learn.
---
Report