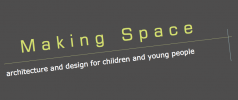 Making Space was an international award and conference run by Architecture + Design Scotland, promoting innovation, creativity and sustainability in design for children and young people from birth to 18. It brought together innovative and inspiring examples of school and community spaces. Children's Parliament facilitated children's involvement in selecting a children's award prize-winner and formed part of a discussion panel at the conference in October 2010.
Using participatory activities 12 MCPs decided their own criteria for judging and awarding a children's prize; considering elements such as how the building/space works, looked and felt, whether children's views were sought in design, how environmental impact and sustainability had been considered and how/whether the space created a positive environment for children.  Following the initial day children used their learning to reflect on the buildings and spaces they themselves use and know before returning to undertake their roles as judges.  The venue used was Holyrood Park Education Centre, which allowed the children to think about spaces conducive to learning.  Using the criteria developed in Day 1, the children assessed nominees for the children's award.
A small number of the MCP judges took part in a panel discussion at the Making Space 2010 conference; they described the process they were involved in and the criteria used to agree their winner.  At the end of the conference the children will presented the award.
A short broadcast quality film of the process was made.
---
Media
---
Report
Architecture + Design Scotland published their Making Space 2010 and electronic copies are available here archive.ads.org.uk/resources/5478-making-space-2010-publication or download the PDF below: