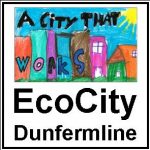 Through the redesign of an existing community and over a 5-day period, EcoCity projects allow a group of around 40 children to create a large scale, 3-D environment, which reflects the kind of world they want to grow up in.
The process takes account of all aspects of people's lives: physical, emotional, creative, spiritual and intellectual and encourages children to respond with creative solutions.
A Tool for Planners –
EcoCity supports the development of knowledgeable, inclusive, sustainable and engaged communities.
Cross-Generational Interaction –
Through direct engagement, children learn about their elders' childhoods and life experiences to inform their own planning and design leading to an environmentally friendly space which meets the needs of everyone who lives there.
School Resource –
Preliminary whole-class workshops in local primary schools highlight children's human rights, ecological sustainability and urban planning. 7 children from each school then become model-builders for the week-long 'build'.
Timing –
The 5-month timeline leads adult stakeholders,  from statutory, voluntary and private sectors, through to the children's planning and designing of the model. Local town and green space planners, water engineers, transport managers, architects and police officers give advice and assistance to the children during 'build week'.
After EcoCity –
Not only does the project leave a physical model, but also a strong cultural legacy through knowledgeable and motivated children; eager to continue to be involved in the development of a stronger, better-connected community.
Previous EcoCity projects: Dumbiedykes: 2004; Edinburgh: 2006; Dunfermline 2010.
---
Gallery
---
Media
Below is our Ecocity video playlist including extracts and films from previous Ecocity projects. More Children's Parliament films can be found on our Youtube channel.
---
Ecocity is a creative consultation delivered in partnership with TASC and GAIA.