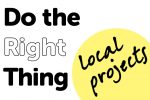 The 2009 Scottish Government publication Do the Right Thing, which lends its name to this Children's Parliament initiative, was a statement of the Scottish Government's intent to improve implementation of the UNCRC in Scotland. A total of 21 priority action points were identified in Do the Right Thing following a consultation with agencies working with children and young people.
The purpose of our Do the Right Thing Local Projects was to promote awareness of children's human rights and the UNCRC, consider what UNCRC implementation looks and feels like locally and identify the challenges of UNCRC implementation in the day-to-day experience of family, community and school life. The project saw us continue to encourage local partners to consider the meaning of national commitments, and for Scottish Government and other key bodies charged with UNCRC implementation to learn from local experiences.
From our delivery of the Do the Right Thing Local Projects we learnt more about a number of general issues which impact on UNCRC awareness and implementation and we were able to identify issues which related to a number of the specific action points which Do the Right Thing identifies.
---
Report
Children's Parliament produced two publications to help share our learning with professionals working with children, Linking learning to National Priorities and Human Rights Belong to All of Us. These can be found at the links below.
Linking Learning to National Priorities (Do the Right Thing, 2011)
Human Rights Belong to All of Us (Do the Right Thing, 2011)
The Scottish Government's Do the Right Thing (2009) publication is available on the Scottish Government website below: