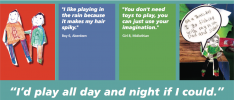 For most people Article 31 of the UNCRC is simply thought of as the child's right to play. As only one of the rights articulated in the UNCRC, the fundamental importance of play to children's health and wellbeing (also recognised in a range of Policy affecting children's lives) has brought the Children's Parliament and the International Play Association (Scotland) together to listen to the child's view of play.
The Children's Parliament designed and facilitated 36 workshops in 28 locations across Scotland; visiting 14 of Scotland's 32 local authorities and engaging with 379 children aged between 2 and 13 years of age.
Participating children came from a range of backgrounds and of different abilities. They lived in urban, semi-rural and rural/island communities.
Workshops took place in after school projects, on the street, and in nursery and primary schools. Children played games, drew pictures and made models as they discussed play.
The report is structured so that children's views on who they play with, what they play, where they play, when they play and why they play are presented; using quotes form children to provide insight. As well as reporting the children's views the report also offers points to consider for adults; these pointers support parents, carers, adults in the community and professionals to consider what they can do to help Scotland successfully implement Article 31.
---
Report
To report on the children's views Children's Parliament published the "I'd play all day and night if I could" report. Available here: Article 31: Right to Play