"Art puts colour and joy into things" – Participant, 2012
---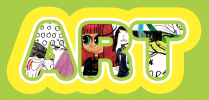 A consultation as part of Creative Scotland's development of a Scottish National Youth Arts Strategy.
The purpose of the consultation:
To consult with children under 11 about their current involvement in the arts
To find out what activities they would like to be involved in
To find out why they think children should be able to take part in the arts
Children in P4-6 in Glasgow, Fife and Edinburgh were consulted using creative processes.  One school was in a rural location, and one was a special school.  135 children took part.
In their creative workshops children considered these questions:
What is art?
How does art make you feel?
What else can the arts be?
Where can you see art or take part in arts activities?
What are the artistic things you do? And where do you do them?
Are there arts activities or artistic things you would like to do?
What's important about art and arts activities?  In particular why is it important for children to take part?
---
Report
A report title Art Puts Colour and Joy Into Things of the children's voices was created for Creative Scotland, find it at the link below:
Art puts colour and joy into things (Creative Scotland 2012)