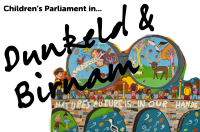 Through 2017 – 2018 Children's Parliament facilitated ongoing engagement with children and young people from the Dunkeld & Birnam area to ensure that their voices were included in discussions about the future of their community.
Mural Project
The P7 children from the Royal School of Dunkeld created a series of 'billboards' to share their vision for the future of Dunkeld & Birnam.  These billboards showcase the children's values, what they feel is important and what they want for their community.  This project was delivered in partnership with A9 Community Group and the Royal School of Dunkeld and funded by Transport Scotland.
These billboards were unveiled at the Big Ask, a community event to gather people's views around the development of the A9, attended by members of the local community, representatives from Transport Scotland, Jacobs, Perth & Kinross Council and John Swinney MSP.  Since the Big Ask, the billboards have been on display at the Birnam Arts Centre and the Royal School of Dunkeld.
"The issues that the children concentrated on were things that they valued in their community and in their lives, and often, when we're going through a process to decide on these questions, we don't quite always have that at the top of our agenda and it really changed the nature of that conversation, and it was a really valuable way of us looking at how to resolve a really difficult perspective because the children of that village will be there for a lot longer, they'll have to live with the consequences of that road design for a lot longer than me or anyone else in that village." – John Swinney, MSP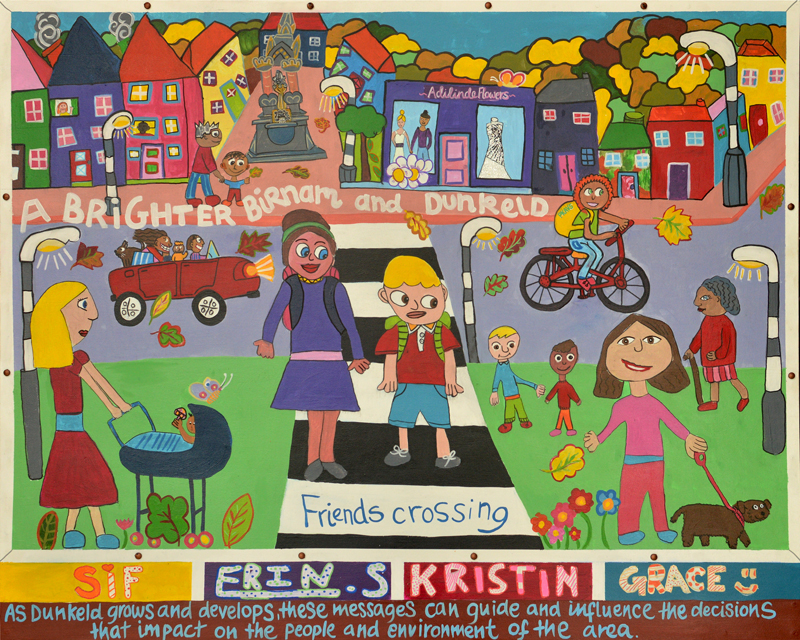 "A Brighter Birnam and Dunkeld''
Let's make sure that Birnam and Dunkeld continue to be a warm, safe and eco friendly community that people will always want to live in and visit. Make sure that there are always safe places for everyone to cross and that the centre is well lit so that we can live happily in this lighter, brighter and happier Dunkeld.
---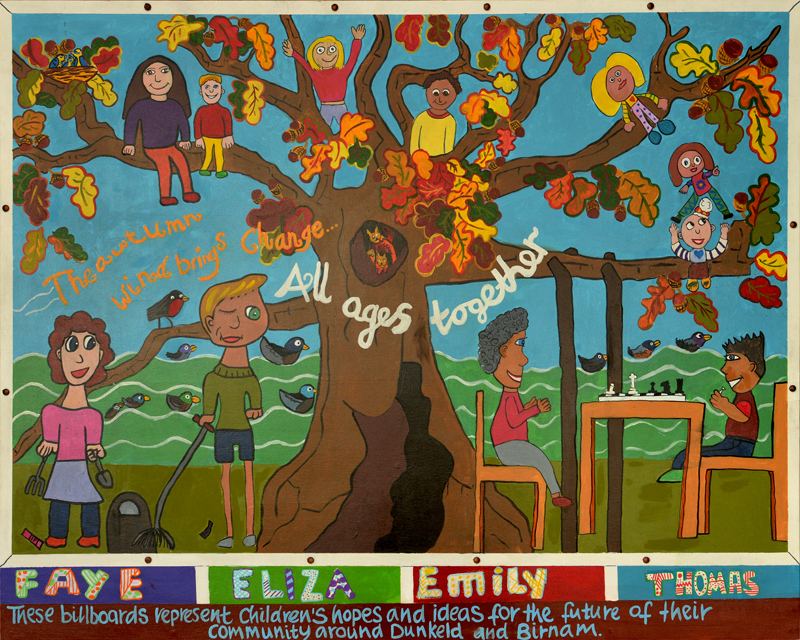 "The Birnam Oak for all Ages''
Remembering that we will all be the same age one day. We think that the young and old working and playing together make our community a better community. Enjoying the achievements of the past and not putting limits on what we can do at any age – young or old.
---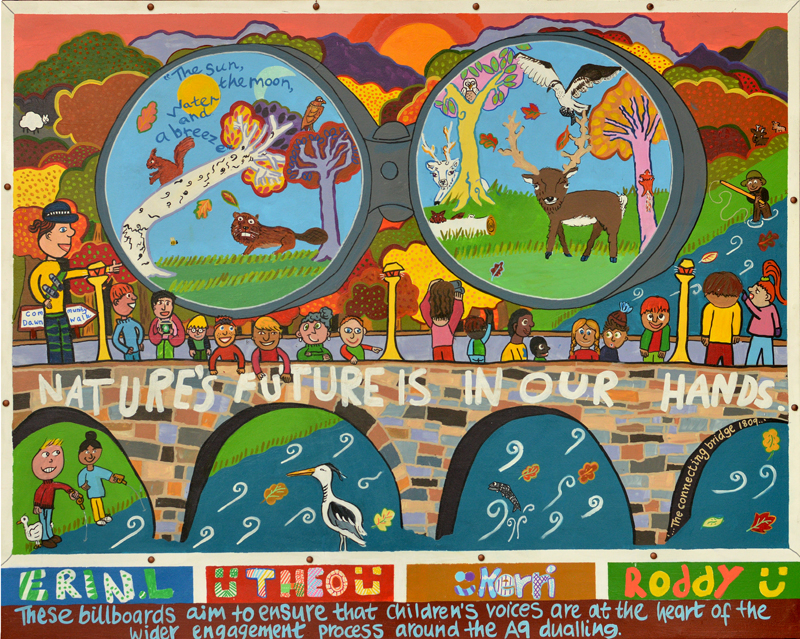 "Nature's Future is in our Hands"
Ensuring that this beautiful place with all its nature is not only here for us but for our children. So we have to focus on the future and take care of what we have for others. Engaging the community with the natural world.
---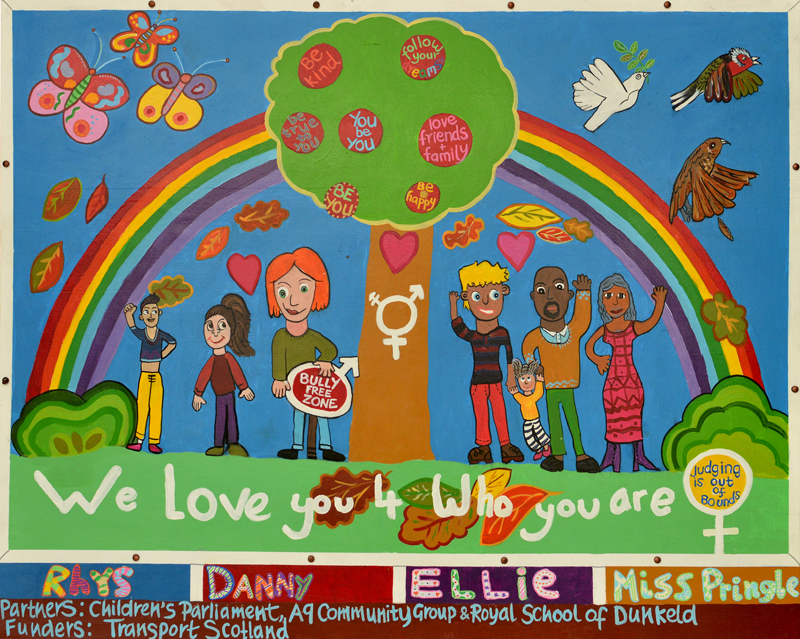 "We Love You for who You Are"
Whoever you are – this is a place we will accept and support you. Be yourself and have respect for others and who they want to be. Have respect, courage and resilience because here there is space for everyone.
---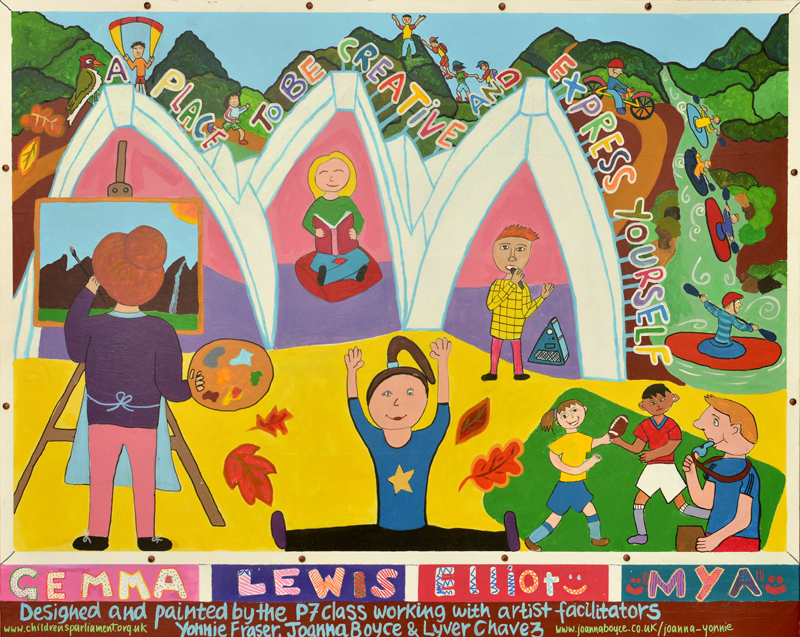 "A Place to Be Creative and Express yourself"
A celebration of the importance of expressing yourself through the creative arts and sport. Not being afraid to try new things or show the world who you are and how you feel.
---
A9 Co-Creative Process
As part of the wider community engagement through the A9 Co-Creative Process, Children's Parliament has facilitated workshops allowing children and young people (aged 5 to 16) to share their views and ideas about the development of the A9 and how it impacts upon their community.  We want to ensure that their voices are included in decision making and heard by the A9 Community Group, Transport Scotland, Perth & Kinross Council, Jacobs and other key stakeholders. Click the link to view and download  A9 Dualling – Ideas from Children and Young People.
As the number of route options for the A9 were narrowed down during Stage 3 and 4 of the A9 Co-Creative Process, Children's Parliament facilitated workshops with children and young people aged 5-16 from Dunkeld & Birnam. The workshops explored the children's views on how some of the proposed options would impact on families, the community and the environment.  Their ideas can be found here: Children and Young People's Phase 3 Feedback