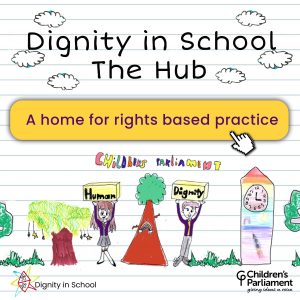 From August 2021 Children's Parliament has been working together with two partner schools on Dignity in School. The programme aims to demonstrate ways in which primary schools can take a children's rights-based approach to their work. By adopting a rights-based approach, schools help to make rights real for children by ensuring that their dignity is upheld.
For the Dignity in Schools project, Children's Parliament workers are embedded in each school, working closely with the school's community to identify best practices and areas of development. Through previous work, Children's Parliament has proven that a children's human rights-based approach can:
Improve relationships
Improve teaching and learning
Improve school planning and policies
Throughout the project, we are showcasing the communities' best practice examples on our Dignity in School online hub – find it here. The hub is home to resources, prompts, and stories. It is a place where learning practitioners, parents, and children can come to gain awareness of children's rights and what a rights-based approach can achieve. We hope it will be inspirational to all those willing to make children's rights real.
---
Dignity in School is supported by: