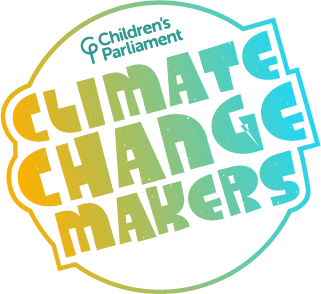 We are delighted to share our Climate Changemakers impact report with you, accessed here. This report captures the journey from our work together from October 2020 to February 2022. Reflecting on our experiences, this report highlights the process, learnings, reflections and impact so far, as well as our recommendations for the future realisation of children's rights in the context of climate action and deliberative democracy.
---
From October 2020 – March 2021, just over 100 Members of Children's Parliament participated in Scotland's Climate Assembly. This was the first climate citizens' assembly to have involved children under the age of 16. The children's 41 Calls to Action on how Scotland should tackle the climate emergency were laid in the Scottish Parliament as part of Scotland's Climate Assembly full report and recommendations. The full report can be accessed here.
Building on the learnings and internationally recognised impact of the children's participation in Scotland's Climate Assembly, Children's Parliament developed Climate Changemakers – a follow on programme to support children across Scotland to participate in and influence climate decision-making processes at local and national levels.
In August 2021, the 11 Climate Assembly Investigators were joined by 3 new children to form the Climate Changemakers team. They met remotely for creative, participatory workshops exploring climate action and children's participation in climate deliberative democracy.
The Climate Changemakers have promoted children's human rights, participation, and engagement with adult decision-makers to tackle the climate emergency through a series of national and international events since June 2021. These included:
The development of a digital toolkit for children's participation in climate action. The toolkit is based on the children's journey as part of Scotland's Climate Assembly and supports other children to learn about the climate emergency; to explore what Scotland can do to tackle the climate emergency, and to influence decision-makers to take climate action. The toolkit can be accessed here.
The Moment –  enabled 2000+ children and young people nationally to discuss their climate calls to action with elected representatives, the largest documented engagement between children and their elected representatives in Scotland.
Supporting children's participation in COP26 – The Climate Changemakers also met with international decision-makers during GLOBE International and COP26 in November 2021 to discuss their experiences as the first children involved in a climate citizens' assembly, and to highlight children's Calls to Action on tackling the climate emergency.
In December 2021, Scottish Government published their official response to the June 2021 Climate Assembly recommendations, including the children's 42 Calls to Action. The official response can be found here. In the spirit of feeding back to children in an accessible way, the Deputy First Minister John Swinney sent the MCPs a film responding to their Calls to Action. This film can be found here.
In February 2022, the children met for a final time to discuss their thoughts on the Government's response. Children's Parliament created a final film of their Calls to Action and deliberations on the response, this can be watched here:
---
Further information
If you have any questions or would like more information, you can contact Sophia Georgescu, project worker on sophia@childrensparliament.org.uk
---
The Climate Changemakers project is supported by: