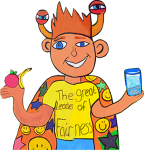 To mark Children's Parliament's 21st birthday we initiated the inspiring and brave band of Unfearties.
Unfearties are individuals who are courageous in discussing children's issues, are making a difference in children's lives, and who are willing to speak up for, and stand alongside, children.
---
---
'A nest of fearties is what they do not want'
– From Edwin Morgan's poem 'Open the Doors' written for the opening of the Scottish Parliament 2004.
---
This programme is supported by the Scottish Government through a CYPFEIF and ALEC Fund Grant

---
If you wish to edit your Unfeartie entry, please get in touch.
Please see the following links if you require a copy of our Website privacy policy or Data privacy policy (Unfearties and Enewsletter)
* Image: The Great Leader of Fairness, created by children taking part in the Fairer Fife Mural, 2015