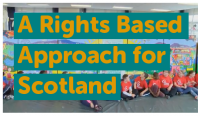 Children's Parliament uses a rights + relationships based approach. We work with children to explore their rights in the environments of home, school and community. Through workshops and longer projects, we encourage children to discuss their needs and help them to share their views and experiences in order that they can influence decisions made with and for them.
NHS Health Scotland commissioned Children's Parliament to produce a film capturing the rights-based approach. The resulting 20-minute exploration of the approach's methodology and impact is intended to aid understanding for practitioners.
The Healthy, Happy and Safe: A rights-based approach for Scotland film forms part of Children's Parliament's upcoming training programme, helping to develop a national skillset for embedding children's rights.
---
---
A leaflet exploring Children's Parliament's rights-based approach at home, school and in the community is also available here.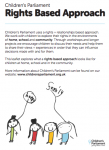 ---
Healthy, Happy and Safe: A rights-based approach for Scotland
film commissioned by: