What Kind of Scotland? Children influencing Scotland's future
2017
In 2017, Children's Parliament is celebrating its 21st birthday. Over the years, we have developed an approach where children explore their rights to be healthy, happy and safe across the domains of home, school and community.
As we look back on our achievements and continue to deliver inclusive and creative programmes of work, we hear consistent and challenging messages from children about their experiences of growing up; some of these experiences reflect their right to be born into and grow up in an atmosphere of happiness, love and understanding, but some do not.
In this publication, children define the kind of Scotland they want to live in, a Scotland that we adult duty-bearers have a responsibility to make real.
Click the here to view and download the What Kind of Scotland (2017) publication.
Our publication, What Kind of Scotland, came out of a commission from Scottish Government to support national work developing new National Outcomes for Scotland. For the launch of the Outcomes in June 2018, these two short films were made. In the films, children explore life at home, at school and in the community, as well as reflecting on what kind of country they want to grow up in.
---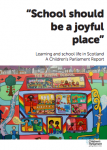 "School should be a joyful place" 2016
Learning and school life in Scotland: a Children's Parliament report
The Scottish Government's Education Governance Review prompted Children's Parliament to reflect on what children have been sharing with us over many years about their experience of school and learning. This publication draws on children's participation in our programmes, projects and consultations from 2008 to 2016; and is further enhanced by a recent workshop with children in which they reviewed findings and authenticated the publication's key messages.
The views and experiences shared in the report give us much food for thought if we aspire to Scotland being the best place to go to school. The very title – "School should be a joyful place" – is perhaps the best way to summarise what children want and need. What children have said has also been the basis of a submission to the Scottish Government's Education Governance Review (2016).
Click here to view and download the publication "School should be a joyful place" (2016)
---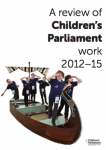 A review of Children's Parliament work 2012-15
In support of the development of the CYPCS Strategic Plan 2016-2020, Children's Parliament has undertaken a review of our work (completed projects, consultations or programmes only) from January 2012 to October 2015 to identify key messages and common themes from children across Scotland.
This body of work includes 16 completed projects, consultations and programmes across 16 local authorities. Through this work, Children's Parliament engaged with 3,229 children between the ages of four and 16.
Click here to view and download A review of Children's Parliament work 2012-15