Childhoods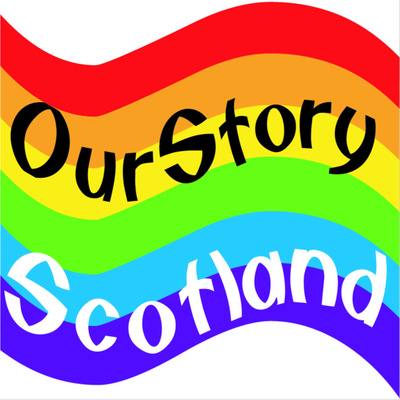 Childhoods is a series of podcast episodes devised and produced by OurStory Scotland in partnership with the Year of Childhood team here at Children's Parliament. During the Year of Childhood, we have been exploring childhood through the lens of children's human rights, creating opportunities to share rights-based practice in an atmosphere of optimism and confidence.
As part of Year of Childhood, we have been collecting Your Childhood Stories to capture the variety of experiences we all have in childhood, and how they impact us in adulthood. The team has also been hosting discussions and dialogues about the importance of upholding children's rights, with the aim of using these stories to highlight what happens when we get it right, and what can happen when we get it wrong – you can find all of the recordings of these here.
The partnership between OurStory Scotland and Children's Parliament enables us to share stories and experiences of childhood recounted by the LGBTQ+ community in Scotland, this helps to ensure the collection of stories reflects and represents the collective experience of Scotland.
The title 'Childhoods' was chosen to reflect the wide range of childhood experiences evidenced by the LGBTQ+ community in Scotland. The fantastic team at OurStory chose to the modeled the three episodes on one of the great autobiographical achievements in the history of cinema, the famous trilogy by the Scottish filmmaker Bill Douglas: My Childhood, My Ain Folk, My Way Home.
The three episodes in the OurStory Scotland podcast series focus on Families, Schools and Communities, and Reflections and Repercussions in later life. Each episode draws on a wide range of extracts from LGBTQ+ oral history recordings made by OurStory Scotland for archive at the National Library of Scotland. The lives narrated through these oral histories range from growing up in the 1920s and 1930s (Edwin Morgan) to the 2010s, encompassing almost a century of childhoods. Listen to the episodes below:
The music for Childhoods was specially recorded by The National Centre of Excellence in Traditional Music, situated in Plockton on the West Coast of Scotland, who generously donated their beautiful renditions of three songs of Scottish childhood:
More about the music
For episode 1 on Families – An Coineachan, in English The Fairy Lullaby: this is a lullaby, but slightly macabre in that it tells of a baby being kidnapped by the fairies.
For episode 2 on Schools and Communities – Babbity Bowster: this is a kids' circle game, but has a wee bit of a challenge in it in the 'wha learned ye tae dance?' question. The options of whether to kiss a wee lassie or a wee laddie could be viewed through a prism of sexual orientation.
For episode 3 on Reflections and Repercussions – Nuair Bha Mi Og, in English When I Was Young: this is a song of emigration, or maybe banishment, in which the singer looks back fondly at the country of their youth. The oral history extracts you will hear in these episodes give evidence of a great diversity of childhoods, with accounts that may be happy or sad, uplifting or deeply painful. Some of the experiences shared through these recordings are disturbing, and may trigger difficult memories. In every case, those who tell these tales are heroic, for coming through tough times and for sharing their stories with us all.
---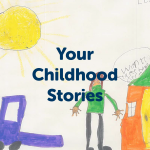 To inform the Year of Childhood programme we want to truly understand what makes for a happy childhood where children are nourished and can flourish. What makes children feel happy, healthy and safe? We invite you to help us create this picture.
If you are an adult, please share with us your memories of childhood. What helped you flourish? What impact has your childhood had on your adult life? And recognising that not all childhood memories are happy, what would you change to ensure children growing up today are happy, healthy and safe and live with dignity?
If you are a child or young person please tell us what makes you feel loved and cared for, understood and happy. Tell us the messages you want adults to hear about the importance of childhood experiences.
Please submit your stories in no more than 500 words. We welcome photos, drawings, poems or other creative ways you would like to use to illustrate your story.
You can send your stories in a number of ways:
Email: info@childrensparliament.org.uk
Post: Children's Parliament, Summerhall, Edinburgh, EH9 1PL
Online: via our web form below
---
Each week we will be sharing another of your stories on this webpage and via #FeatureFriday on our @creative_voices twitter account. Click on the images below to read the stories so far:
---
---