On March 16th, 2021, MSPs voted unanimously to enshrine children's human rights as outlined in the United Nations Convention on the Rights of the Child (UNCRC) into Scots law. Although children's human rights will become law in Scotland, we know that for many professionals in Scotland, including Creative Arts practitioners, children's rights are absent from their thinking and their practice.
On May 25th 2021 we hosted a Webinar in partnership with Youth Theatre Arts Scotland as part of Year of Childhood about Children's Rights and the Creative Arts Sector. The aim of this event was to bring together practitioners in children's human rights and the creative arts to consider, at this opportune moment, how we can draw connections between these two important fields of theory and practice.
---
The webinar comprised an online panel and Q&A with:
• Virginia Radcliffe, Artistic Director/Chief Executive at Licketyspit
• Rebekah Corbett, Community Arts Coordinator at PEEK Project
• Helen Mill, Executive Director at The Village Storytelling Centre
The webinar was facilitated on Zoom by Susan Elsley, an independent writer and policy analyst on children's human rights. Susan is Chairperson of Craigmillar Literacy Trust, and previously Chair of Together (Scottish Alliance for Children's Rights). She has been a trustee of Play Scotland, and many other charities.
A recording of the event can be played here:
Key Takeaways and Attendee Questions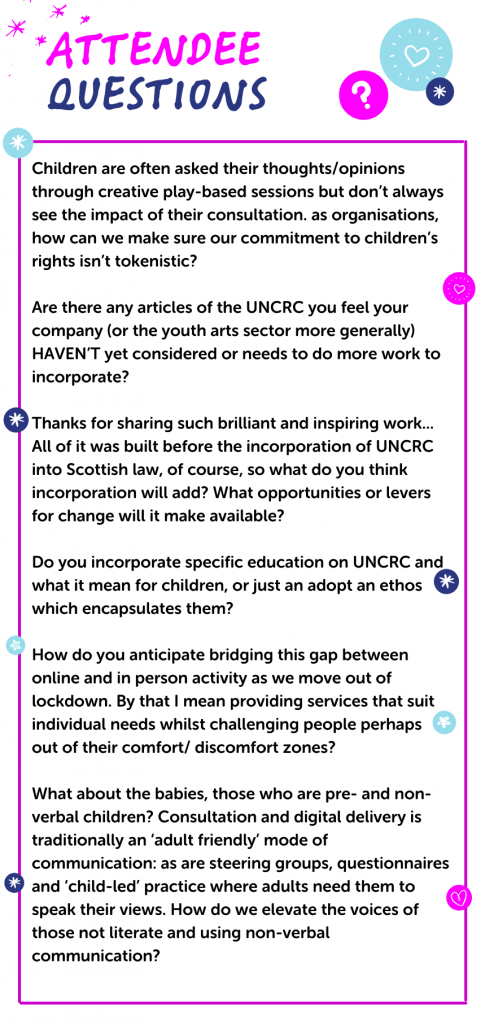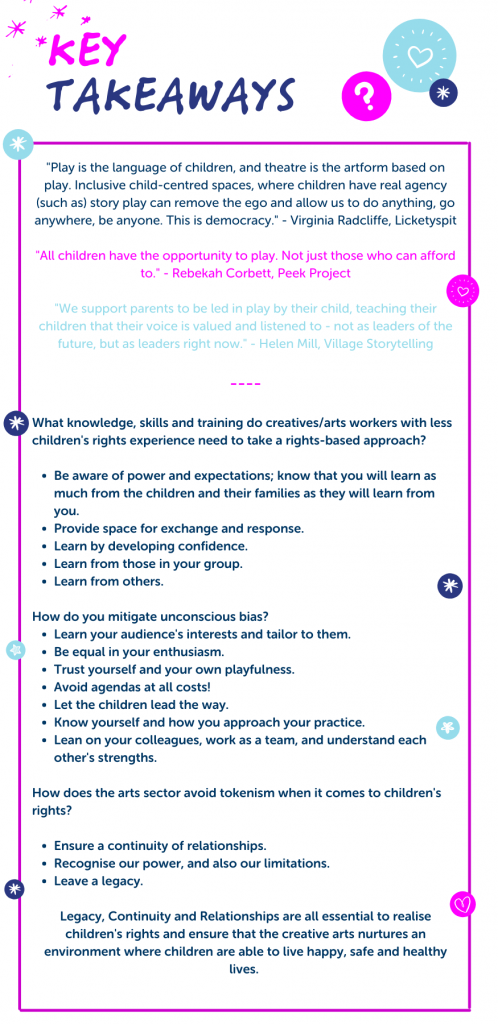 ---
Useful Links and Resources
More information on Scotland's Journey to making children's rights law in Scotland: https://www.togetherscotland.org.uk/about-childrens-rights/monitoring-the-uncrc/incorporation-of-the-un-convention-on-the-rights-of-the-child/
The General Comment on Article 31 Summary from the International Play Association gives more information on the measures governments are urged to take to ensure implementation of the rights in article 31 for all children.
The Wee Book of Promises, is a child-friendly version of the United Nations Convention on the Rights of the Child (UNCRC). You will find a copy here: https://www.childrensparliament.org.uk/wp-content/uploads/Wee-Book-of-PromisesChildrens-Parliament-2019.pdf
An Unfeartie is an adult who respects and stands up for children and their rights. Become an Unfeartie here: https://www.childrensparliament.org.uk/unfearties/
Licketyspit's Resources:
• Virginia's Diary: Licketyspit Play and UNCRC Incorporation
• Have Your Say Through Play Page
• Have Your Say Through Play film
Further Training:
Children in Scotland are hosting a session on UNCRC, Participation and Engagement on August 2nd, which is free for members of the Scottish Youth Arts Sector. You can find out more here.