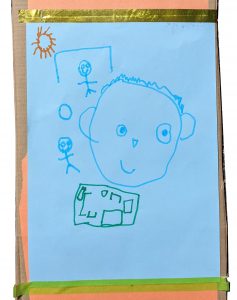 This year Scotland will incorporate children's human rights  into Scots law, as outlined in the United Nations Convention on the Rights of the Child (UNCRC). Incorporation will bring multiple challenges as the country grasps this opportunity to make our society more inclusive and safer for all. One such challenge is that of baby and infant 'voice' and participation in decision making. Children's Parliament and NSPCC are keen to draw attention to this issue. As such, within our Year of Childhood programme, we are hosting a conversation to consider these opportunities and challenges.
To kickstart this dialogue, we invited Professor Kay Tisdall of Edinburgh University, and Julia Donaldson of Glasgow's Infant and Family Team (GIFT) to share their reflections with us on the following question:
"What kind of changes, tools and practices are needed in the system to allow infants' voices to be meaningfully heard and understood in decision making, given the incorporation of UNCRC into Scots Law?" 
The following videos capture the conversations that were first shared on Tuesday 29th June, the tenth anniversary of the Christie Commission. The issue itself is too broad to resolve through these short videos, so we want to assure you that this discussion is an introduction to a larger conversation. We are planning a sector-wide, live-panel discussion for later in the year, we will use this page to update you with details as they are confirmed.
The full discussions between Carmel, Julia and Kay can be watched in the playlist below.
The snippets below are provided to highlight specific points in the discussions and to share with your networks.
---
Our speakers
Julia Donaldson has a background as a clinical psychologist and is currently the Clinical Director of GIFT. The Glasgow Infant and Family Team (GIFT) is a multidisciplinary infant mental health team. Julia and her team work with children aged between 0 and 5 years old who are in kinship care and foster care.
Kay Tisdall is a Professor of Childhood Policy at the University of Edinburgh. She is part of the childhood and youth studies research group and her own policy and academic interests are in children's human rights. She works collaboratively with children, young people and others on research projects addressing participation, in such fields as early childhood learning, domestic abuse and family law.
Carmel Faulkner is the Unfearties Project Lead at Children's Parliament. Her background is in education – specifically early years. Her experience includes leading nursery schools and children's centres.  She has an MA in Early Childhood Studies and is currently undertaking her PhD with the Centre for Children's Rights at Queen's University Belfast. Her research seeks to understand the transformative potential of young children's perspectives on their human rights in early years settings located in Rwanda.
---