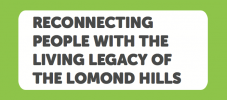 The aim of the Living Lomonds Landscape Partnership is to reconnect people with the living legacy of the Lomond Hills by bringing people to the hills; revealing and reviving their lost heritage; celebrating and sustaining all the good things that come from the hills.
As part of their work to gather information from people local to the Lomond Hills area, the partnership was keen to ensure the views of children informed the development phase. It was recognised that the views of our youngest citizens – and those for whom the plans would have the longest and possibly more profound impact – were essential components in forming the next stage of the work. Children's Parliament was approached to undertake this consultation.
Artists Owen Pilgrim (storyteller and sculptor) and Rosie Gibson (makes work with and for children, and about childhood) consulted with children in local schools. They worked with P5/6 in Benarty, Portmoak, Freuchie and Markinch Primary schools and produced an 'outstallation' (as opposed to an installation!) comprising a paper tent and clootie tree by each school and a sound montage of the children's experiences and stories from the hills, and their wishes for the future of the hills. This was exhibited locally and at Falkland's Big Tent Festival.
Consultation funded by Living Lomonds Landscape Partnership, Heritage Lottery Fund, Falkland Centre for Stewardship
---
Report
A report was produced for the Living Lomonds Landscape Partnership, you can find this at the link below.
Living Lomonds Landscape Project (2012)