"I used to be scared of going up to high school but I've met so many friends here and become brave"
Gamechanger, age 11
"I always wanted to learn to play football but I never had a place to play"
Gamechanger, age 10
---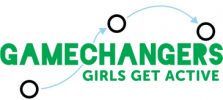 Gamechangers was a project run in collaboration between Children's Parliament and the Scottish Football Association. Gamechangers focused on empowering girls to get active, try new sports and physical activities, meet new people and have fun learning football along the way.
Our first year of Gamechangers graduates met in four regions across Scotland –  Inverness, Dundee, Edinburgh and Renfrewshire – over three school terms to learn how to play football, explore their rights and try new ways of being active and having fun in a positive and inclusive group environment. Gamechangers participants celebrated the culmination of their project with a residential activity week in Stirling in August 2016 where all of the girls met each other for the first time, put their new football skills into action and explored their rights and what they need to continue being active once they transition to high school and beyond.
Through using a rights-based approach Gamechangers helped enable girls to develop the skills and confidence to enjoy the benefits of lifetime engagement in sports and physical activity.
---
GALLERY
---
Gamechangers: Girls Get Active was delivered in partnership with Scottish Football Association, Comic Relief and Scottish Government.