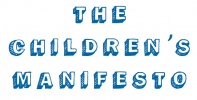 Children's Parliament engaged with children to ask what we need to do in Scotland to make sure every child is safe, happy and healthy. The children's views were formed into a manifesto and presented to Scotland's Commissioner for Children and Young People as part of the 'Right Blether' national consultation.
Children aged 6 – 14 from four Local Authorities took part in the consultation: Angus, East Lothian, Fife and North Lanarkshire.  One hundred children formed the core group for the consultation and in turn they worked with 3 friends; allowing the consultation to engage with 400 children.
The core group were provided with a 'Brain Box' activity – a self-assembly cube on which children could gather and report on their views and those of their peers in words or illustrations. The Brain Box posed a question: what do children need to be safe, healthy and happy? Children were asked to respond by thinking across key areas of the child's life: home, learning, community and Scotland.
Following their consultation with peers the 100 children attended a workshop at which they shared and discussed the experiences and views collected.  They then gave further consideration to the one thing they would wish for Scotland's children in order that all children can be safe, healthy and happy. These final wishes were expressed in an illustrated disc, which, alongside photographs of the children was used to create an interactive exhibition which was used to report back to SCCYP and to the participating children about this national consultation.
---
Report
The Children's Manifesto (2010)
---
The Children's Manifesto was produced in partnership with SCCYP