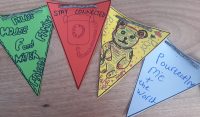 As part of the public consultation on the review of Part 1 of the Children (Scotland) Act 1995, Children's Parliament engaged with children to explore their views and ideas on themes raised in the review. This included parental responsibilities and rights, contact with family members if the family has been separated, sharing views in court, and changing a child's name on their birth certificate.
With the duty on Ministers and public bodies to consult with children and young people on processes and decisions that have a deep impact on children's lives and their relationships with their families, it is important that children's views and their human rights be taken into consideration when making any changes to this piece of legislation.
In this consultation, we engaged with 34 Members of Children's Parliament (MCPs) between the ages of 8 and 15 years. 20 boys and 14 girls took part. We worked in four settings in the following local authorities: Edinburgh, Fife, Midlothian and Dundee. We sought to work with children with diverse backgrounds and experiences so that a range of views would be reflected in this report.
As this consultation builds on previous Children's Parliament work, we revisited earlier reports with relevant themes, including: The Weight on Our Shoulders (a 2018 consultation report for the Child Poverty Delivery Plan), Happy, Healthy and Safe in Care (a 2018 project report with key messages from children in care to professionals), If an adult just listens… (a 2016 consultation report on the F9 form used to gather children's views for Sheriff Court), and How Does Your Garden Grow? (a 2014 consultation report on the Children and Young People Bill).
---
Report
Click the image to download the report: