School Food
2018
Prior to amending the Nutritional Requirements for Food and Drink in Schools (Scotland) Regulations 2008, the Scottish Government commissioned Children's Parliament to explore children and young people's views on the food and drinks that are currently on offer in schools.
More info 
---
Best Start Grant
2018
As part of the new social security powers, which were devolved to Scotland through the Scotland Act 2016, the Scottish Government is planning to introduce a new benefit called the Best Start Grant.
More info
---
Child Poverty
2018
Children are experts in their own lives and as such Children's Parliament is interested in learning about the experiences that shape children's lives at home, at school and in the community. For roughly one in four children in Scotland, poverty is one of the biggest issues they face.
More info
---
Age of Criminal Responsibility
2018
Children aged 8-12 years shared their views about the minimum age of criminal responsibility.
More info
---
National Sitting 2017
2017
To mark Universal Children's Day 2017 and Children's Parliament's 21st birthday, children and adults travelled from across Scotland to meet and discuss the future of Scotland and how it can be a safer, healthier and happier place for children and families to live and grow.
More info
---
Edinburgh Children's Partnership
2017
It is the responsibility of adults who run services to involve children and young people in all aspects of strategic planning. Children's Parliament has been working with Edinburgh Children's Partnership to develop a methodology for engagement that is jointly owned by children, young people and adult duty-bearers.
More info
---
CP Community Ambassadors
2017
Community Ambassadors worked with adults across the community, helping to ensure that community members have the capacity to promote and protect the rights of children to be healthy, happy and safe.
More info
---
Children's Parliament meets the Scottish Cabinet 2017
2017
Children's Parliament, along with the Scottish Youth Parliament, attended Bute House to meet with the Scottish Cabinet. This meeting marked the first time children and young people have officially met with the Scottish Cabinet in this way.
More info
---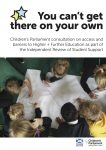 You can't get there on your own.
2017
The review addresses the most effective ways to support students in Higher and Further Education, with a focus on providing fair and fit-for-purpose support for Scotland's most vulnerable learners.
More info
---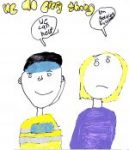 Just People Like Us: Police Scotland
2017
Police Scotland commissioned Children's Parliament to engage directly with children so that children's experiences, views and ideas can be included in Police Scotland's draft strategy for the future of policing in Scotland entitled '2026: Serving a Changing Scotland'.
More info
---
Family Law
2017
Children's Parliament was commissioned by the Family Law Committee to engage directly with children to explore their views on the draft F9 Form, which is currently used in family court cases.
More info
---
CLAPA & CP
2016
How do rights apply to children affected by cleft lip and palate? And what do children, who are affected by cleft lip and palate, want adults and peers to do to support realising their rights? We've been meeting with CLAPA's Scotland group to explore and better understand their experiences.
More info
---
Children's Parliament Investigates Bullying
2016
Through the lens of children's human rights, children from eight Edinburgh schools explored what they need to be healthy, happy and safe at home, school and in the community.
More info
---
Gamechangers: Girls Get Active
2016
Gamechangers focused on empowering girls to get active, try new sports and physical activities, meet new people and have fun learning football along the way.
More info
---
Police Powers
2016
Should Police have the right to stop and search children and young people for alcohol? On behalf of the Scottish Government, Children's Parliament consulted with children aged 8-12 years to find out their views.
More info
---
Under the Same Sky – Children's Parliament at the United Nations
2016
Under the Same Sky is an international constellation of projects exploring children's rights and the environment.
More info
---
Learning/Attainment
2016
Children's Parliament views educational attainment as a human rights issue. Find out what children tell us that they need and want from their learning experience.
More info
---
National Sitting 2016
2016
Children's Parliament held its second annual National Sitting at Albert Halls in Stirling. The theme of 2016's sitting was active lives and the Active Children mural was unveiled for the first time.
More info
---
Active Children
2016
In 2016 children across Scotland shared experiences and aspirations for participation in sport and physical activity. Their discussions and views were brought together in the Active Children mural.
More info
---
Developing a Digital Learning Strategy
2015
This consultation reports on the views and opinions of children as they explore the Scottish Government's vision for digital technology within learning and teaching.
More info
---
Pushing the Boundaries
2015
A growing body of evidence confirms the vital importance of nurture and positive relationships on children's development.
More info
---
Fairer Fife Mural
2015
Jump on 'the fairness bus' and join 'the Great Leader of Fairness' as 150 children from across Fife create their vision of a fairer Scotland.
More info
---
National Sitting 2015
2015
At the First National Sitting of Children's Parliament participants looked at what children need to be healthy, happy and safe at home, in school and in their communities; what can get in the way; and finally, what actions we can take to ensure that Scotland is the best place to grow up.
More info
---
Adolescent Wellbeing
2015
What do children and young people think they and their friends need to be healthy, happy and safe?
More Info
---
Consultation on Raising Complaints
2015
How do you complain? Who do you complain to? What do you hope will happen with your complaint? Scotland's Commissioner for Children and Young People has been given new powers to investigate complaints from individual children and young people. Children's Parliament was commissioned to speak with children to gather their views on the theme of complaints.
More Info
---
Realising Ambition
2012-2015
Over three years Children's Parliament were part of a UK-wide programme exploring what it takes to successfully replicate evidence-based programmes that reduce the likelihood of young people offending.
More info
---
Home Free
2014
Home-based accidents and injuries are one of the main causes of hospital admissions for children under the age of 15. In 2014 RoSPA commissioned Children's Parliament to facilitate a consultation with primary aged children about home safety and accident prevention.
More info
---
Children and Technology – Glow Privacy Impact Assessment
2014
Following an upgrade to Glow, the national online learning platform available to children, young people and staff in Scottish schools, the Scottish Government undertook a Privacy Impact Assessment commissioned Children's Parliament to undertake direct engagement with children; looking at the benefits and areas of risk involved in Glow.
More info
---
Sporting Chance
2014
A Children's Parliament consultation exploring children's experiences and aspirations about participating in sport.
More info
---
My life in Scotland Survey
2014
An innovative survey tool which brings the voice of children and young people to our understanding of their wellbeing.
More info
---
Embark! Routes to Reading
2014
Reading is the key to unlocking a child's full potential, yet there are many children in Scotland who leave primary school without being able to read well.
More info
---
Moving on up: Renfrew Transitions Project
2014
The transition from primary to high school is a time of excitement which also brings up many issues and questions for children.
More info
---
NHS Lothian Consultation
2014
NHS Lothian believes that every child should have the best start in life and grow up being healthy, confident and resilient.
More info
---
Mapping our Future
2014
As part of Scottish Government's Horizon Scanning process; Children's Parliament brought children and adults together to explore a range of possible futures and how our world might be different by 2021.
More info
---
Leaders of Learning
2014
Leaders of Learning is an exploration of children and young people's experiences of learning, both in and out of school.
More info
---
Children & Young People Bill:
How does your garden grow?
2013
Children contributed their ideas, thoughts and opinions on what they need from the adults in their lives for children to feel healthy, happy and safe. The children's voices informed Children's Parliament's response to the Children and Young People Bill, which later became the Children and Young People Act 2014.
More info
---
The Dads Project
2013
The Dads Project put children's voices at the centre of the growing debate around contemporary fatherhood.
More info
---
Me + Us
2013
Me + Us engaged children in an exploration of what makes them unique and what connects them to others.
More info
---
Art Puts Colour and Joy Into Things
2012
When Creative Scotland wanted to develop a Scottish National Youth Arts Strategy, they contacted Children's Parliament to find out how art impacts on children's lives.
More info
---
Living Lomonds Landscape
2012
Living Lomonds development project is about reconnecting people with the living legacy of the Lomond Hills by bringing people to the hills. Children's Parliament worked with local artists on a project that allowed children's voices to be included in this development.
More info
---
Do the Right Thing Local Projects
2011
The purpose of our Do the Right Thing Local Projects was to promote awareness of children's human rights and the UNCRC among childcare and education professionals.
More info
---
Teacher Employment Review
2011
Children's voices contributed to the 2011 Teacher Employment Review, helping to define the terms and conditions of employment for teachers in Scotland.
More info 
---
StreetsAhead Glasgow
2011
Children's Parliament worked with children in the East End of Glasgow to bring their views on what their communities need to be safe, healthy and happy.
More info
---
Creating a Culture of Kindness
2011
Helping Fife Council staff consult effectively with children and ensuring that children's voices help shape the Children and Early Years' Service.
More info
---
Ecocity
2011
EcoCity is a creative consultation process, where children engage with urban planners, architects, local councillors, environmentalists and community stakeholders to rethink their local environments and propose better solutions.
More info 
---
The Best Start in Life
2010
Children have their say about what helps create the best start in life. A Children's Parliament consultation in association with Professor Susan Deacon (University of Edinburgh)
More info
---
Wee Voices
2010
What would a creative Children's Rights workshop look like for the early years? Children's Parliament worked with partners to explore this through Wee Voices.
More info
---
Identipix
2010
An introduction to children's human rights and an exploration of identity using photography and mixed media.
More info
---
Making Space
2010
Children's Parliament facilitated children's involvement in the Architecture + Design Scotland Making Space conference, selecting a children's award prize-winner and forming part of a discussion panel at the conference in October 2010.
More info
---
Right to Play: Article 31
2010
Children's Parliament and the International Play Association (Scotland) working together to listen to children's views of play.
More info
---
The Children's Manifesto
2010
Children's Parliament engaged with children to ask what we need to do in Scotland to make sure every child is safe, happy and healthy. The children's views were formed into a manifesto and presented to Scotland's Commissioner for Children and Young People as part of the 'Right Blether' national consultation.
More info
---
Children's Hearings Reform
2009
What do children think of the Children's Hearings process? In 2009 the Scottish Government approached Children's Parliament to explore the views of children with experience of the Hearings system.
More info
---
Glasgow 2014: The Legacy
2008
Scottish Government asked Young Scot and Children's Parliament to gather the views of children and young people on how Scotland's people could engage with the Games in the run up to 2014, and what Scotland's host legacy should look like.
More info
---
Climate Change Project
2008
This innovative project engaged young people in the global debate on climate change and particularly the national debate on the Scottish Climate Change Bill.
More info
---
Wee Democracy
2007
A research project that examined the interface between family life and children's rights with the intention of creating a model of work with families.
More info