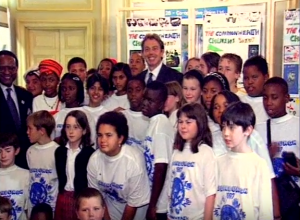 While we all come to our own conclusions and create our own agendas around what the Scottish Government means by its themes: 'active citizenship', 'wellbeing', 'children's rights', 'participation' and now 'attainment', the focus shouldn't be shifted from the central and most important word relationships.
Since Children's Parliament lead the first Commonwealth Heads of Government Meeting Children's Summit in Edinburgh in 1997, we have recognised a consistent narrative around how society can achieve better outcomes for children and young people. Scottish Government wishes Scotland to be 'the best country to grow up in'. Children's Parliament would settle for Scotland being 'a wonderful country to grow up in'; a country where children feel valued and believed, where it is understood that the quality of the relationships between children and the adults in their lives, along with children's levels of emotional wellbeing, will largely determine the outcomes children realise.
---
---
We know through a veritable avalanche of research, that if children's levels of emotional wellbeing are low, their chances of making good progress across all aspects of their lives is limited. Children from families facing challenges that impact on their health, happiness and safety do less well at school and have a higher chance of being involved in risky behaviour than children who receive good support and encouragement.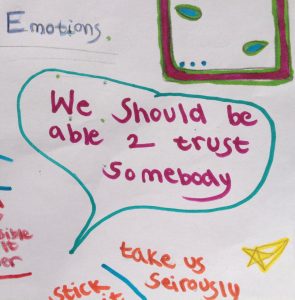 Children's Parliament's focus on forming strong relationships with children allows us to demonstrate to parents, teachers and the wider community that when children feel good about themselves and feel trusted and valued they can achieve both socially and academically. Adults are often surprised at how much the children do achieve; a child who would barely speak in class stands up in front of an audience and talks about their piece of work and has one to one conversations with adult decision-makers about things that matter to them. Another child declares to the group, 'I didn't batter a boy who kicked me at football because Children's Parliament taught me to feel proud about myself'. We didn't teach him to feel proud of himself, we created an environment where the focus was based first and foremost on creating strong, trusting relationships between children and between children and adults and seeing each child as an individual with their own strengths and goals to work towards. This emotional development – some might recognise it as the development of resilience and emotional self-regulation – then enables the child to engage in a range of learning experiences that they feel ready to face.  It is this preparedness to learn that we know makes the difference in school.
So, while we recognise the importance of preparing our children to become the adults of tomorrow, we emphasise that our children are citizens of today who, when experiencing relationships that are defined by respect, empathy and human dignity, are becoming the confident individuals, responsible citizens, successful learners and effective contributors that society wishes to them to be.
#itsallaboutrelationships
– Cathy McCulloch, Co-director, Children's Parliament
For more information about the importance of strong, positive relationships to the Getting it Right for Every Child agenda, see the Scottish Government's 2012 publication Common Core of Skills, Knowledge & Understanding and Values for the "Children's Workforce" In Scotland
It's all about relationships.