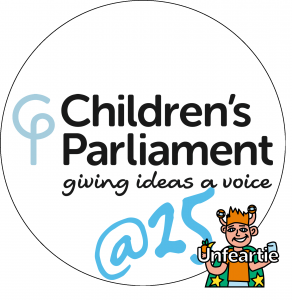 Founded in 1996 by Co-directors Cathy McCulloch and Colin Morrison, Children's Parliament was inspired by a child's opinion that every town should have a 'children's parliament at the centre of it, somewhere for children and adults to meet and talk and be equal'. We've come a long way since that initial idea, but the ethos remains and is core in our mission to ensuring children grow up in an environment of love, happiness, and understanding.
Children's Parliament's work is based on the United Nations Convention on the Rights of the Child (UNCRC) and over the past 25 years, we have worked to develop and demonstrate the impact of a children's human rights-based approach. If you have time, look through our archive and you will find myriad examples of the positive contribution that this approach can have, for both children and the adults who live and work alongside them. In 2017, we initiated the Unfearties movement, which aims to recognise and energise the adults working hard to ensure children experience a childhood underpinned by respect for their human dignity.
With the imminent incorporation of the UNCRC into Scots Law, it's a pivotal moment for children's human rights. So, to mark our 25th birthday and the children's human rights movement in Scotland, we have created the resources below. Please join us in celebrating children's participation and engagement in whatever way you can.
Here's to the next 25 years!
---
Children's Parliament birthday messages
Hear from our friends, current and former Members of Children's Parliament, and Unfearties as they wish a Happy Birthday to 'Scotland's oldest parliament'.
---
Be Unfeart with Us!
For our birthday, and in the lead up to World Children's Day, we're asking you to swap your profile photo on social media, and in your working environment, to a photo of something that evokes childhood for you. This could be a photo of your own childhood, or it could be of a place, a favourite toy, or even a book or tv show.
Please add our Twibbon over the top of it, to show everyone else you are joining our party!
The 20th November is marked as United Nations World Children's Day, and in the week leading up to this we'd like to encourage everyone to have conversations about the impact and importance of putting children's human rights at the heart of everything we do with, and for, children. To celebrate, we've invited 25 Unfeartie Ambassadors to join us in hosting conversations with friends, colleagues and/or parents in their networks about what it means to be Unfeart!
We've pulled together a handy intro guide on "What is an Unfeartie?" to support their conversations; please do take a look, and if you'd find it helpful, use it too!
Party with us!
Party? It's only a party if we can dance! We've got you covered with our playlist below. We've collated the 25-songs-for-25-years playlist to get you grooving!
Looking for something more? Take a peek back at our UNCRC Party Bag, which we created to mark the passing of the Incorporation Bill in March. It's filled with party games and activities!
We are going to be celebrating with an extra-special cake this year; could you help us to make it?
Celebrate with us!
We're really excited to celebrate you this week, and the wonderful supporters we've worked with over the years. Earlier this year, we asked our Unfearties network to nominate people they thought were defending and supporting children's rights but might not use that language or recognise those skills in themselves. We're delighted to share some of our #UnsungUnfearties Nominations with you: