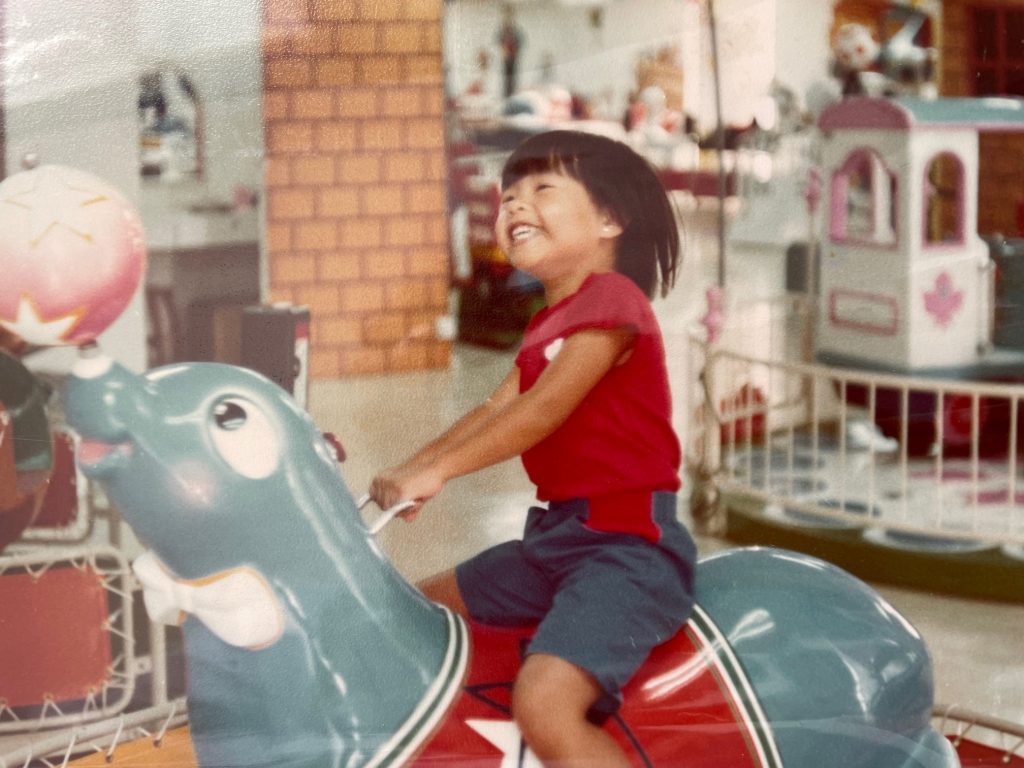 So my childhood was rather different to most but I still look back on it very fondly.
I was born in Malaysia and my stepdad (who's English) came into our lives when I was 1 so he was always just Dad and he had a huge impact on my life. My parents worked overseas in the Middle East and I was mostly brought up by my Mum's parents, and I saw my parents a couple of times a year. It was me and my brother (who was 6 years older) and my elderly grandparents who barely spoke English but whom we absolutely adored. This arrangement didn't bother me at all although I have been told stories of how I used to, when I was very little, wail and cry when Mum and Dad had to leave after the holidays. Due to my Dad's influence, I can barely remember not being able to speak English although my first language is actually Chinese.
I attended a British international school and it was my time at this school that I think really shaped the person I am today. I have lots of wonderful memories of playing with friends, playing with our dogs, having fun at the beach, and even of the Sunday mornings when I was dragged to a Catholic church service by grandma (whilst my grandpa waited outside … he was NOT a believer!) and I would bring toys to play in between the pews as I wasn't interested in the slightest. I was a total adventurer and loved animals and creepy crawlies … I used to collect snails and earthworms and take toads for walks! I loved my school and I made lifelong friends there… the wonders of an international school is that it was full of people from all backgrounds. The school was amazing and my teachers were amazing.
When I was 12 however, my grandma passed away, and thinking that it wasn't fair to leave me with just my grandpa (at this point, my brother went away to college), I was enrolled into boarding at my school. I know lots of people had bad experiences at boarding school, but I just had the best time! We got to do all sorts of incredible things (weekly sailing club in the sea was my favourite) and wonderful lasting friendships were formed. There were many school holidays where I went to stay with my friend's families as my family didn't really have a traditional home and my parents never really wanted me or my brother to go out to Saudi Arabia where they were as they believed there was nothing there for children. I was totally cool with that as many adventures were had.
And then when I was 14, my parents decided to leave the Middle East and settle us as a family back in the UK. I was not happy about leaving my school and my friends and I didn't speak to my parents for a bit! As we never lived together as a 'normal' family before, our attempt at that in rural England was challenging. They enrolled me into a normal state school as they wanted to make sure that I didn't get spoiled by having been in private education all my life. I wasn't happy at the time but now when I look back, I'm very grateful for that decision. The work situation changed for my parents and they returned to the Middle East when I was in sixth form and I went into boarding school (I know, it's weird, it was a state school that had a boarding house) again. Once again, I loved it! Although this time round, I didn't make lifelong friends but I have no idea why. So I was there until I finished my A Level and left for university and came to Edinburgh … and I haven't left!
For lots of people, going to university was a big change but for me, it wasn't a challenge at all. I was always used to being independent and away from family.
Even though it wasn't normal, I look back at my childhood affectionately … I was loved, and supported and had everything I needed. I had a very privileged education (I realise that now… don't think I really understood that back then!) and had so many opportunities opened to me which I know is not readily available to everyone. I know my parents made choices that ensured my brother and I had the best upbringing we could but that as a consequence of that, we're not as close as we could be. With my own children now, I'm doing the exact opposite! They'll be stuck with us for as long as possible!
If I had to do it again, I wouldn't change a thing!
So, lesson of my story is that there isn't a one-size-fits-all happy childhood.
---
Steph Wright
A middle way from childhood
Outside Scotland
Would you like to contribute a childhood memory? We are collecting stories to better understand what helps children flourish. Submit your story here: childrensparliament.org.uk/yoc-childhood-stories/
An unconventional upbringing